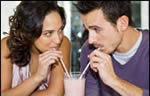 Whether you're 13 or 30, having a crush can be one of the most exciting and confusing times in your life. Instead of looking the other way when it happens, why not take a look at these six simple steps to turn your crush into a date?
Get excited
The dating world is so full of losers and let-downs it's easy to become disenchanted with romance. Over time, you may even find yourself numb to the feelings of excitement and hope that come with love. But when you finally find someone you like – a real crush – it's okay to get excited! While you probably shouldn't spend too much time fantasizing about a wedding to a perfect stranger, it's perfectly normal to think about your crush and look forward to seeing them. Don't deny yourself the simple joy of being madly "in like."
Get acquainted
Sometimes you get so wrapped up in chasing after your dream date, you forget you really don't know them at all. Remember, this isn't just about getting your crush to like you – it's also about finding out if you really like them. Don't just spend your time together "selling" yourself to your crush. Take the time to ask them questions and listen to their answers. Even more, pay attention to the way they treat you and those around you. Do they seem honest and consistent in the way they are? Obviously, a crush doesn't have to possess all the qualities you're looking for in a partner. But if they seem to be lacking more than a few of the big ones, you might want to consider what it was you liked about them in the first place.
Get together
After you've taken the time to discover what your crush is really like, it's time for the next step: spending some time together. You can avoid first-date awkwardness by setting up a comfortable, casual group activity. If you work together, set up an informal lunch date. If you have friends in common, organize a group outing to a bar or music event. If you live in the same neighborhood, host a barbeque. Too often people rush past the magic of a new crush. Try to take things slow in the beginning. Remember, the point is for you and your crush to enjoy each other in a fun, stress-free environment.
Get out
As great as it is to linger in the early stages of flirtation, eventually you have to leave the safety net of familiarity and go out together. One-on-one time is the only way you'll really be able to move past a crush and into a dating relationship. But that doesn't mean you have to suffer through a boring dinner date. The big date can be a day at the beach, a night at the museum or a ride through the park. The most important thing is to allow you and your crush some alone time to see how you feel about each other when no one else is around.
Get it on
(Not literally!) It's the most common problem with romantic pursuits: you've done everything right, yet somehow you've turned your crush into a buddy instead of a date. The problem is you never managed to cross the line from platonic to romantic. So how do you avoid the "just friends" phenomena? As you get to know someone, send signals that you're looking for more than just friendship. You don't have to come on strong with an aggressive sexual move – just make sure your body language and attitude reflect your attraction. And be sure the first date ends with something a little extra friendly – whether it's a kiss, a hug or just a brush on the arm, make sure they know you're interested.
Get smart
Of course, no matter how much you like someone, sometimes they just don't feel the same way. The reason they're called "crushes" is because at times they really, really hurt. You'll never totally avoid the pain of rejection, but you can minimize your hurt by being more honest with yourself. Instead of blindly hoping your crush is into you, pay attention to how they respond to you. If they don't seem interested, the truth is, they probably aren't. Don't waste your time trying to turn this crush into a date – instead, find someone who's crushin' on you too.