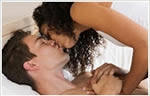 Astrology can let you in on sexual secrets to help you charm your lover. This list of sexual turn-ons for each sign can create opportunities for exceptional sex. Exceptional love making can be in the details. Whether your partner likes it fast and furious, needs the emotional connection of some intimate pillow talk or considers foreplay a few good paragraphs from a lusty novel, astrology can let you in on some hot little sexual secrets to help you mesmerize your lover.
It's important to remember that sex is a collaboration of styles and needs. Just like the give and take of a good relationship as a whole, you can play into your lover's most erotic fantasies if they have sex appeal to you, too. Here's a list of turn-ons by sign, to help you supercharge what goes on behind closed doors.
Aries
This sign has a weakness for athletic builds, spontaneous pleasure and taking the lead when it comes to seducing you into some instant gratification or a marathon session of healthy bedroom sport. Climb a mountain with an Aries and suggest that you make love at the top. Challenge them to a race in the pool – with a quickie in the deep end if they outstroke you. Rough-house a little after a run and then have your Aries chase you into some sweaty, salty sex before you both jump into the shower together. Compliment them on their great moves, include plenty of pleasurable oohs and aahs and the two of you will always be a team.
Taurus
Taurus likes sex almost as much as they enjoy the pleasures of receiving an expensive gift. So, put your earthy lover in the mood with a little gift of bling. Sign the card, "This is to thank you for the wonderful time we're about to have…" and let the magic unfold. Reach out and touch your tactilely responsive Taurus with the kind of long, slow, sleepy foreplay that leads them to a big charge of ultimate satisfaction. Put cuddles, caressing and a sensual massage in the mix and you'll have your Taurus panting for more. Make sure the surroundings are cushy and comfy and your earthy partner will return your favors with a smile.
Gemini
Mental foreplay is the bedroom game that turns this sign's erotic heat up to broil. Gear them up for a long wanton night, with some witty flirticisms by day. Catch them later with a visual of what you plan to wear and do, including the playlist of lusty sounds you'll have stirring their mind in the background – smoldering blues, sensuous Barry White, Kruder and Dorfmeister or the throbbing sounds of Ravel's Bolero. Next, stimulate your Gemini's brain into pure fervor by sharing your deepest fantasies, or peep into the love lives of others by reading just the good parts of your favorite erotic stories. Then when neither of you can wait a moment longer, settle into some good old-fashioned lovemaking – really!
Cancer
Touch their heart, body and mind with reassuring hugs, kisses and cuddles that arouse their sensitive sexual sensibilities. Impassion them with lust-worthy sweet talk like "I think about you all the time," and affirmations of your heartfelt attraction to their body and soul. Cancer can't separate sex and love, and they are turned on by a powerful partner. So stir in something experimental with playful hanky spanky or a teacher-student, doctor-patient fantasy act. Hold them captive in your little love den by wrapping your wrist to theirs with a long, soft scarf, repeating softly, "I'll never let you go," as you make the kind of sweet love that finds you both collapsing intertwined hours after the lights have gone out.
Leo
Plan a ceremonial evening for this lover who likes nothing better than an all-out show of your adoration and appreciation. Turned on by old fashioned loving desire, the kind that black and white romantic movies of the past are made of – Leos devour natural, vanilla, pleasing seduction. They like nothing better than the royal treatment as they lie in wait for nature to take over. Seduce them with large flattering words: "You are extraordinarily fabulous in those silk pajamas, tonight. Do you have any idea how massively exciting you are to me? Bring them champagne and dessert in bed. Spoon feed their first few bites, and lick their lips for dribbles. Touch them passionately, scratch their back, massage their head – then let them make their moves.
Virgo
These perfection seekers are turned on by a lover who stays in exemplary physical shape, offers the lead in lovemaking and plans their sensual evenings to be long and languid. Stimulate a Virgo's lust by calling them for an appointment for sex at a designated time. Assure them that the evening is dedicated to them and only them. Then turn off your phones, put on some quiet music, and open a bottle of wine. Draw your Virgo a warm bath or offer a back massage using only their favorite oils or lotions. Ask them exactly how they want it and where they want it, and be sure to follow directions. Between the sheets, take it slow and easy. For extra thrills slip them a blindfold, and voila, you can only imagine how this evening ends.
Libra
If you haven't been seducing your Libra love with the old traditional soft lights and love notes stuff, try it – they'll like it! Librans are attracted to classic good looks and mental stimulation. Put the way you feel about them into words like: "I like spending time with you" and "we make a great couple" between breaths as you kiss them sensually. Erotic massage, quickies, morning sex and a take-charge attitude will get their juices going. With these beauty-loving romantics, it's lights on. Add a camera and there's surefire action!
Scorpio
Ready whenever you are, you can heighten this lusty sign's experience by putting a bit of mystery into your evening plans. Call your Scorpio at work, tell them to meet you at a local hotel and have a room number ready. Or blindfold them at your front door dressed in something seductively black (and leathery), then lead them into your mirror-filled boudoir, leaving everything else to their own imagination. Scorpios have a great appreciation for the perfect booty, so keep yours up with some extra squats and leg lifts at the gym.
Sagittarius
Some generous, honest flattery will get you anywhere with this sign. Charm the pants off them with humor or really impress them by adding some fun (a round of "hide and capture" or a few hands of strip poker would do nicely). If you're game for spur of the moment romps in the great outdoors – or even in a pup tent in the backyard – you're Sag will be ready, willing and eager at the nearest shady tree. It's no wonder they're turned on by athletic builds – you've gotta have some stamina to keep this lover your own!
Capricorn
To a sign where every time seems like the first time, Caps crave the anticipation of pleasure as much or more than the final act. And even though goats are rigid about the "no sexual pressure" rule, they're anything but frigid! They deeply enjoy straight-laced but satisfying lovemaking with a partner who takes care in pleasing them. Restrained and controlled hook-up fantasies like librarian and booklover, or teacher and student, Fed-ex guy and office assistant (you get the idea) costumes and all, can make for the kind of dramatic affair they dream of.
Aquarius
Whisper "I love how wacky…sexy your are" into your Aquarian lover's ear," because there's nothing that turns them on more than overt adoration! Your enthusiastic enjoyment of their eccentric personality will put them right in the mood for lovemaking. Follow that up with uninhibited foreplay (then some more foreplay), a little bed-wrestling and maybe a dip into the toy drawer, and you'll keep the home fires burning for the Water Bearer, who likes to keep score. If you really wanna fan the flames, leave your Aquarian a lusty phone message, or send an R-rated email as a prelude to some X-rated phone sex when the time is right.
Pisces
A little gift and dose of flattery does wonders with dreamy Pisces, who spends a lot of time imagining their sexual forays. Extend your fish's interest and excitement by being a bit indecisive about moving onto more physical activities. Then, once you've revved up their libido, sexy music or an erotic movie playing in the background can help set up a long, slow, lust-charged evening. Sexy lingerie, a little striptease, or a pole dance are always on their list of desires. And if you don't feel fit enough to take on the task, worry not! This is one sign that goes for a partner with a little meat on their bones.