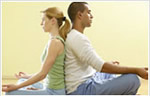 Learn multiple ways to clean up our karma, the universe's way of teaching us lessons and keeping balance. Karmic cleansing can battle those consequences. There are any number of ways we can see karma at work.
Called by different names in different traditions, karma can be loosely summed up as the Universe's way of teaching you the lessons you need to learn – over and over again, until you actually learn them. In some traditions, this can take multiple lifetimes. In others, the lessons may or may not ever be learned. It can simply be a case of your individual ability and willingness to evolve.
No matter how you view karma, there's no doubt that it affects your life. In fact, some argue that everything (good and bad) is karmic. Commenting on this very subject, one religious writer summed it up this way: "In life, there are no rewards, and there are no punishments. There are only consequences." So how do you control those consequences?
Clean up
Opinions may vary when it comes to actual karma cleansing. Some spiritualists and psychics have the ability to read and clear individual karma (from past lives, and from this plane). If you want to know what your actual karma is, this is the way to go. But first, take a closer look.
Change your actions
Since karma is literally the result of your actions, remember that what goes around comes around. If you can see the link to what's happening to you in your actions, you may very well have your answer there. Change your actions. It may seem difficult at first, and it will be. But you can choose to alter your karma, most of the time.
Be thankful
Karmic situations are not just negative ones. Most of us like to complain when something bad happens to us, but it's rare to hear someone say "wow, karma!" if something great occurs. The next time you're faced with what seems like unusual good luck, you might try a little gratitude – it goes a long way.
Check your intentions
Even if someone is able to clear your karma, you will continue to have free will. Thoughts affect action and karma. The only way to undertake a karmic cleansing is with purity of intention, and a real readiness to let go – and to move on.
The secret
Sometimes karma can become a self-fulfilling prophecy. We all need to be careful with statements such as "I'll never find my soulmate," or "I can't do that." As much as these thoughts may be motivated by something beyond your understanding (low self-esteem, habit, past-life actions), with or without a karmic assessment and cleansing, a certain amount of responsibility lies with you. After all, only you can control your thoughts. And only you can control your actions.
So make them good ones – and enjoy the consquences… karmic benevolence!