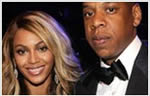 After a six-year romance, R&B mega-artist Beyoncé Knowles, 26, and rap powerhouse entrepreneur Jay-Z, 38, wed on April 4, 2008 in New York. Astrologically, the Virgo-Sagittarius power couple is a mix of similarities and differences. Will their union be a blissful bond or a battlefield? Let's compare their charts to find out.
Sweet and willful: Beyoncé
Born on September 4, 1981, Beyoncé has Sun in discriminating Virgo and Moon in sexy Scorpio. Add the magnetism of Scorpio to five planets in Libra, the sign of art and beauty, and you have an alluringly feminine woman who is a gifted artist – between her music career, acting (most recently starring in Dreamgirls), her own fragrance, clothing line and an array of endorsements, the girl is a powerhouse. Mainly, it's Venus conjunct influential Pluto in Libra that gives Beyoncé her creative drive – and a large dose of intensity in the romance arena. Venus and Mercury in Libra indicate she strives for balance and fairness in relationships, but the Pluto influence says she's drawn to charismatic "bad boys."
So does Jay-Z fit the bad-boy persona? Well, he had a run-in with the law in 1999, but he seems to be focusing on more positive pursuits now, like his successful music career and business ventures (he co-owns the 40/40 Club, a chain of upscale sports bars, and is part-owner of the New Jersey Nets NBA team). Fortunately, all of this makes him a powerhouse on his own, which is just fine with his wife – her Mars in dramatic Leo reinforces her need for a strong partner with a compelling creative drive like hers. It also says she's passionate, playful and needs plenty of attention. Virgos are usually modest, but Beyoncé's Scorpio and Leo influences give her a great deal of pride and a strong will. She likes to be in control, and this is where she may clash with her new husband.
Wild and restless: Jay-Z
Shawn Corey Carter, aka Jay-Z, was born on December 4, 1969. With Sun and Mercury in freedom-loving Sagittarius and Mars in unconventional Aquarius, the multi-talented rapper resists being tied down. After all, he just gave up his bachelorhood for the first time – at age 38. And with Venus on the cusp of passionate Scorpio and idealistic Sagittarius, he'd only give it up for true love. So are Beyoncé and Jay-Z soulmates? First, let's look at their challenges (and every couple has them!).
Clash of elements
A Virgo-Sagittarius relationship isn't an easy alliance. As a Virgo, Beyoncé is dedicated to her work and needs close family ties, which can feel constraining to her Sag husband. He's easy going, while she's a perfectionist. He envisions the entire forest, while she analyzes one tree at a time. Her critical nature may get on his nerves, while his relaxed attitude feels irresponsible to her. However, evaluating a couple's Sun signs is only the beginning of a compatibility reading. Other influences, such as the Moon, which indicates emotional compatibility, are just as important.
True-love ties
On the positive side, this relationship is one of true love, as can be seen through their Libra connections. Jay-Z has Moon in Libra, which hooks up with Beyoncé's Mercury (communication), Venus (love), Jupiter (optimism and growth), Saturn (commitment) and Pluto (passion and depth). She certainly has a tremendous affect on his feelings. They also share a love of music and other creative ventures. And there's quite a bit of electricity between them as well.
Uranus is the planet of sexual chemistry. Jay-Z has Uranus in Libra, which stimulates and awakens his wife's mind, heart, sexuality and artistry. She finds him fascinating – and a little unpredictable. As for longevity, her Saturn on his Moon says they're in it for the long-term. It's a good influence for creating a stable home life together. And with transiting Saturn currently conjunct her Sun and trine his natal Saturn, it's a good time to start a new life together – on a deeper level then they've had before.