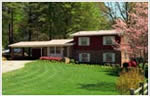 Visiting your childhood home is a common dream scenario. Such dreams usually occur when you're dealing with a problem that stems from your upbringing. After all, your childhood is where you developed the foundation of who you are. The traditions, emotional patterns and beliefs you learned while growing up will influence you, for good or for bad, as an adult.
Dreams of your childhood home can reveal an ingrained belief or attitude that is keeping you from manifesting what you want now, like a compatible relationship or success in your work. For instance, if you were taught by your parents not to expect very much from life, you'll settle for less in your work and relationships as an adult. You may find yourself repeatedly attracting partners who don't treat you well. To help you resolve this problem and attract someone fabulous, your dreams will present scenarios involving your childhood home that reveal the root of your issue. Working with the symbols and feelings in these dreams will help you eliminate the limiting beliefs that are holding you back. When you need help figuring out what  your dream means, call a psychic expert in dream interpretation.
Anna's dream
Anna from Manila had a compelling dream that illustrates – rather dramatically – that she's in the process of eliminating some negative childhood patterns, most likely in preparation for marriage. She writes:
I had a dream about flying back to my childhood home, which seemed bigger than it really is. I went to each room and flew all over, saying to some unseen beings, "Get out, get out and never come back!" I repeated that for each of the rooms until I was done with the whole house. What surprised me about the dream was that it seemed so natural for me to fly and that it all seemed so real. I usually have a sense of knowing that I am dreaming or asleep as I dream. I didn't feel tired at all, and in fact was so satisfied at the end. This dream was immediately followed by a dream about looking at three wedding gown designs and each of the designs had different grooms associated with them.
The unseen beings in Anna's house were actually ingrained beliefs from childhood that she's dispelling from her psyche. The fact that the house was bigger than she remembered indicates the enormous influence these beliefs have over her life – more than she'd thought, actually. What's so impressive was the feeling of power and confidence with which she exorcised these "ghosts." So satisfying!
Also, dreams that are clustered together are messages about the same concern. For Anna, the dreams of the house and the wedding gowns were part of the same message, which was to free herself of the past so she can choose a mate who's right for her.
An important element of Anna's dream was her effort to purge every room. Each room of a house represents a different part of your life, so Anna was quite thorough in banishing every negative element of the past. If you have a dream that focuses on your childhood kitchen, for instance, you may be exploring issues you have with food. Dreams of your bedroom can reveal concerns about privacy or intimacy, while the living room represents everyday family patterns. The attic symbolizes your higher consciousness, like your spiritual beliefs, while the basement reveals hidden, unconscious factors from your past that influence you today.
How you feel
Also, pay special attention to how you felt in the dream, which will reveal more clues about the dream's message. As with Anna, positive feelings indicate you feel empowered in resolving the past. Or you may just be revisiting the love and support you received while growing up. On the other hand, negative feelings indicate you're struggling with something that stems from your childhood. Meditation, therapy and, especially dream analysis, will help you move forward so you can achieve your aspirations.