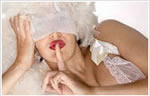 Every sign has their favorite sexual fantasy… that daydream setting for love or lust that plays out in your head as the ultimate sensual high. Exotic settings, chance encounters, sex with former or famous lovers, role playing or just watching are some of the more common fantasy scenarios for sex, by astrological sign. Read a lover your fantasy (and their own!) to give you plenty of insight into what makes your sun sign sigh!
Libra
Whether the scene is set at a chic Hollywood party, or a courtly event in a French castle centuries ago, the cast of characters in this fantasy are all beautiful, intelligent, fun loving and sensually flirty. Sexy scenarios abound as couples and groups begin to melt into the most elegant of lovemaking around you. You eye the partners of your choice as they mentally agree to come together to pleasure you slowly. Of course everything is secretly filmed, so you can enjoy it all again and again.
Scorpio
You are in a deep, dark woods, covered in a hooded cape, and the one who lusts for you stands in the moonlit clearing all but naked, having eagerly followed your every direction to the meeting place for your tryst. You lead your lover back into an underground cave where an upholstered black leather bed is warmed by the dim light from the tall flickering candles. You remove only your cape. Still dressed, you cover your love with foreplay for hours, until they beg you for completion.
Sagittarius
At a jazz club, a lecture, or a poetry reading you eye the person who is center stage. You concentrate on them imagining a romance and they feel your vibe. A nod and a wink pass between you and they slip you a note that says "Ten minutes… back door. Till then." When they exit the building, you run past them. They chase you fervently. When caught you are kissed, pulled into the shadows of a building and the deed is quickly done. You walk back to their hotel, playfully stopping to hug and lock lips along the way, where champagne, a hot tandem shower and a full night of love await.
Capricorn
The setting is an elegant old house full of divine antiques and there are servants everywhere. Your much older mate seems to be on a business trip, so you have made up a list of dream lovers, including a particularly attractive postal carrier, a caterer and a divine blue-eyed person you keep locking eyes with at the tennis club. In your fantasy, opportunity knocks and knocks all in one day, as your lovers mysteriously file in and out of your luxurious bedroom for a turn at your unbridled passions, without any of the help or your mate ever being the wiser.
Aquarius
You are faced with a treasure trove of trashy lingerie with a yoga instructor or guru on a weekend ashram retreat. Or is it a low key spa overlooking watery bliss? In this imaginative mix of pleasure and spirituality, Aquarius spends their day being taken by surprise by a fun loving teacher. Physical pleasures take over while the two of you do yoga by the pool. An impromptu display of affection while being massaged produces a happy ending. You sneak off together after evening meditation with a pot of chai tea to hold tantric poses throughout the night. When the weekend ends, you smile and say goodbye waving the peace sign with a promise to meet up the same time next year.
Pisces
You and your lover are at a museum in a far away land where a collection of erotic paintings, statues and other sensual art moves you to a state of heightened sensuality. Practically drooling with desire, you do nothing about your feelings. Instead, you enjoy drinks at a nearby private club where the most astoundingly beautiful dancers are the entertainment. You have plans to meet up with friends at their hotel for a nightcap. Once inside their room, you excuse yourselves and quickly shut the bedroom door, as they enjoy a bottle of champagne and the restrained, hushed sounds of your lust.
Aries
Your lustful energy just won't give up until you put in a booty call. But somehow wires are crossed and to your surprise you answer the door to find your fav pinup sports star at your doorstep, six-pack abs and all, challenging you to a love match. Just like you, your celebrity lover isn't into bells and whistles, preferring to wham and bam around the house testing your agility with outrageous positions and numerous speeding orgasms. When you're hungry and almost tired, a helicopter lands on your roof to whisk you into the air where you get extra points for making it in the sky.
Taurus
As a loving, sensual Taurus, you fantasize about a little role playing that helps slow down the action of foreplay into more play. As a flirty, seductive gigolo or a beautiful coy geisha you keep your focus on your love object, touching and soothing them into lust, until you're ready to raise the sexual bar for some tantalizing action. Your partner, in return, offers you a professional caliber strip tease after which you and your love melt into each other's burning desire. For hours afterwards, you fan the embers of your union with adoring tender talk, entangled and wrapped in a full body embrace.
Gemini
You are holding court with poets and musicians, exotic dancers and circus performers, exploring the depths of your intellect. Your speak to an audience about love, rituals and sensuality. Immediately you are surrounded by an even larger crowd of admirers. When you conclude the crowd begins to entertain you. You are massaged, and fanned, hand fed, offered libation and serenaded. As the party dies down a curtain drops around you and the one you have most admired from your entourage. Your every sensual need and changing mood is quenched as you lie back in ecstasy.
Cancer
You have heard that a lover from your past has fallen on hard times. You get into your magic sailboat and the wind takes you to their side. You heal them with love and affection awakening the lust they once had for you as well as the gifts of great relentless pleasure they once offered you. You ask for nothing and yet they knowingly satisfy every crevasse of your being. You leave transformed, renewed and refreshed… tears of joy fall as you shudder knowing that the one you have rescued will lovingly ravish you for all of eternity.
Leo
You wake up on an island of great enchantment where you are covered with bejeweled robes, admired and worshipped by all. You have your choice of sexual conquests as one by one, you are courted and entertained until you challenge your favorite mates to a full romp in your quarters. Only those who are willing to enjoy love with enthusiasm and great gusto will enter the final challenge in your private den of love. Once there, you allow nature to take its course. The suitor who wins the coveted place at your side will be the one who sighs in satisfaction in tandem with you, and believes that in the glory of your lovemaking, once is simply not enough.
Virgo
Your lover appears at your door with gifts of delectable appetizers and expensive champagne, a car and driver await. Your lover takes a diamond encrusted watch from their pocket and fastens it on your wrist. An envelope is set in front of you, with a theatre playbill inside. You will be taken to a playhouse where a group of actors will make love in three acts. When you arrive at the theatre, you will check off the acts you want to see. When the actors have taken their final bows, your lover whisks you into an elevator to a spectacularly appointed penthouse made perfectly for your own role play!
What's in your subconscious? Talk to a psychic to find out more. Call
1.800.573.4830
or
click here
now.