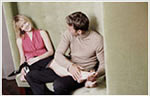 You may be interested in dating a Libra, but you may have heard stereotypes about Libras: they're charming, but they cheat… they're fair, but non-committal. Like every astrological sign, the characteristics of a Libra can manifest in both good and bad ways. Here a few pros and cons of being with a Libra – and thoughts on how to make the Libra personality work in your relationship.
Pro: fair and diplomatic
Con: indecisive and insecure

All signs of the zodiac are represented by either a person or an animal – except Libra, whose sense of justice is represented by a set of scales. Libras tend to put fairness above all else. They don't like conflict, and often take the role of intermediary to get those around them to cooperate. Their sense of fairness and diplomacy can be refreshing in a world full of self-interested people.
On the other hand, Libras are so concerned with avoiding conflict that they are often indecisive and insecure. Being in a relationship with a Libra can be frustrating if your partner is more concerned with making things appear fair than with taking a stand.
The key to being with a Libra is to praise them for their noble ability to take in multiple points of view and try to create harmony. When they're being indecisive, gently prod them into action by reminding them that they can still make a decision one way or another – without sacrificing fairness.
Pro: pleasant, charming
Con: frivolous and flirtatious

Libras are notoriously charming and have a fondness for extravagance in all areas, including romance. Motivated by beauty and pleasure, Libras have a unique ability to surround a relationship in incredible sensuality. Of course the flips side is that Libras often don't limit their sensuality to their main squeezes. They are so drawn to the beauty of potential partners that they may indulge in reckless flirtations.
The key is to tell your Libra how much you enjoy their sensuality. Thank them for their romantic gestures. If you sense that a flirtation with someone else is going too far, make it clear that such behavior is unacceptable. Being born under the Libra sign isn't a get out of jail free card, after all.
Pro: perceptive
Con: scatterbrained

Because of their sense of fairness, Libras are often perceptive about the feelings of those around them – and are often considered the most empathetic of all signs of the zodiac. More than mere social grace, the Libra can possess an ability to sense the wants and needs of others.
Of course, absorbing the energy of other people can set Libras apart from the crowd. They may be affected by others' moods, but because of the intuitive nature of these experiences, they cannot always share them. Because of their psychic abilities to perceive disharmony, Libras can seem unfocused, scatterbrained or inconsistent.
The solution is to acknowledge your Libra's gift of perception, and offer support when they are overwhelmed by it. Be conscious of how your own energy may be affecting them, and offer them some alone time as a sanctuary from the disharmony that surrounds them.