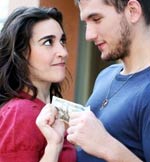 Many a relationship has gone awry thanks to the green elephant in the room — money.
Everyone needs it, everyone wants it, and, everyone grows up learning different values regarding finance, spending… even how it relates to identity.
A recent article in the New York Times explores the concept of the new trend in relationships — women who are more educated and who make more of the green than their male counterparts.
Psychics, what advice do you give callers in these situations? Readers, share your experiences.