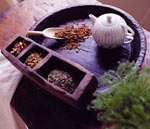 There have been numerous tips and tricks on how to enhance personal psychic ability and now… there is even a special concoction of tea that will soothe your senses and have you seeing the future in no time. Really? Well, it certainly will take some time, and like everything else we want to be good at, practice makes perfect… but why not sit down with a nice cup of tea and try to gaze into the future?
The eHow Psychic Power Tea recipe is made up of 8 simple ingredients including anise (a licorice-like flavor), cinnamon and damiana (promotes relaxation), however the key ingredient is a quiet, calm environment. It is a potent blend of 5 herbs, meant to be drunk slowly while you indulge yourself in a meditation session in hopes of clearing your mind and inviting your psychic ability to show it's face.
So, what makes this tea so special? The combination of herbs. There are endless amounts of various herbs, enabling you to create unique flavors with heaps of different benefits … and this specific tea was designed with the 'psychic' in mind encouraging not just psychics alike, but anyone, to help cultivate your inherent gifts.
Do you drink tea?
Psychics, do you have any homemade remedies for psychic ability? Bloggers, do you have any tips on enhancing ability?