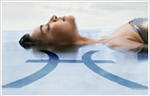 Yes, they're imaginative. Sure, they're sensitive. And naturally, fish have a tendency to float (okay, drown), in their sorrows. But what are some of the things that we don't know about the sweet souls born under the sign of Pisces? Let's have a look and see:
The Dark Side
While Gemini may be the sign most commonly associated with duality, seemingly passive Pisceans are almost as two-sided, just in different ways. After all, there are two fish, not just one in the sign's symbol, and it's no coincidence. Sweet on one hand, the fish is indeed one of the zodiac's kindest, but when scorned, they can turn into piranhas!
Sure, a Pisces is not likely to act out in physically aggressive or outwardly angry ways, but remember, these softies are cousins to fellow water sign Scorpio … When a fish's emotions take over, it will bite! Moreover, they blow venom-filled bubbles in their offender's direction, determined to take everything around them along as they drown.
Common manifestations in an otherwise gentle Pisces who has been hurt include jealous behaviors, guilt trips, and whining. They also like to play the victim and rarely accept responsibility for any role they've played in a problem. In this way, perfectly sane adult fish can come across like bratty little children. Their inability to face reality (when they don't like what they see), drives them to act in ways that don't fit with their happier personas.
The Bright Side
On the other hand, some of the unexpected characteristics of the fish are more than positive — they're positively passionate. When it comes to getting down and dirty, for instance, contrary to popular belief, there is no such thing as a cold fish. Rare is the Pisces who doesn't take their sexuality very seriously. It's their goal to plumb the depths with their partners and swim in the most simmering of seas. As a result, while they're rarely given credit for it, Pisces are some of the most creative and attentive lovers around.
When in love (or lust), a Pisces will make it their duty to become a one-person pleasure parade. Think your demure Piscean partner is innocent in the ways of the world? Think again. Inexperience should not be mistaken for lack of interest or prudishness. For the fish, spirituality and sexual connection go hand-in-hand, and they're open to very devilish behavior as a direct line to heaven, which in their minds, is a deep, fulfilling emotional connection.
Want to know more about your sign? Get a psychic reading today! Call
1.800.573.4830
or
click here
now.