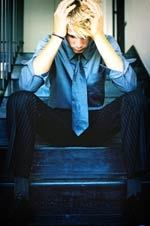 Breakups do affect men, but they deal with it in different ways. After the love you shared, how can it be that one side is so torn up, while the other just goes about their day?
Despite appearances, men go through just as much emotional turmoil as the ladies. The difference … they're not as vocal as we are, at least not usually. Get more personalized advice, contact a psychic today!
Here's what the guys say:
"If a guy jumps right back into the dating pool, it doesn't mean he's not over his 5 year relationship, most likely, he's trying to distract himself and forget. If we go get laid right away, it helps getting your mind off of being so upset."
- Tom, Chicago
"Men tend to assume no responsibility for the break up and put it on the woman. Then they will even rationalize their actions if they are the actions that broke them up, like cheating."
- Will, Los Angeles
"If the woman breaks it off, most guys don't want to see them again, they don't want to talk to her on the phone, they don't want her asking how they're doing. It's just depressing."
- Josh, Seattle
"Overall, I think it's safe to generalize that men hide their feelings and bottle things up instead of talking about it as women do… to no end."
- Ryan, Essex
Any more guys care to weigh in? Psychics, readers, what has been your experience?