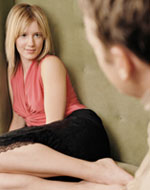 What an interesting discovery! Have you ever had the experience of just knowing someone is staring at you? Whether its a stranger, a crush, a boss… it's as if you can feel their eyes creeping in on your presence. I'm sure we've all been there but the question still remains … can we actually feelsomeone's stare? Psychiatrist and author Colin. A. Ross M.D. has a hypothesis that the eyes omit an energy that we can feel with our senses.
Get more personalized advice, contact a psychic today!
An article on Yahoo quotes Dr. Ross explaining his theory, "We used our patent pending Electromagnetic Beam Detection System, which includes modified EEG neurofeedback equipment, to prove that the human eye emits an electromagnetic signal that can be measured scientifically…" Many skeptics still insist that the eye could not possible produce a measurable energy but Dr. Ross is determined to defy them.
Well, psychics, bloggers… are you a believer or a skeptic?