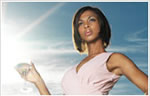 Learning to capture the heart of a Taurus, the Bull, doesn't take much because they're rather difficult to resist. Their sensuality is legendary, but so is their temper. Their sensuality is legendary (think Penelope Cruz, Michelle Pfeiffer, Cate Blanchett and George Clooney). Their temper is also legendary when they're pushed too far. Nonetheless, the beautiful Bull is hard to resist. If you want to capture the heart of a Taurus, here are some things you need to know.
Get physical
Love combined with plenty of physical attention is the Taurus version of Heaven. As a super-sensual Earth sign, it's no surprise that Taurus has a deep well of sexuality within their psyche. They may not be the most adventurous in bed, but their responsiveness is unmatched. Just caressing their hand or lightly stroking their hair will set a Taurus on fire.
With artsy Venus as their ruler, Taurus basks in a beautiful ambiance, complete with enticing music, candlelight and (think sensual again) scrumptious food and drink. Luxuriously soft sheets will keep your Taurus happy, too. What's more, Taurus has a deep appreciation of nature, from a walk in the woods to the scent of freshly cut grass. So when pursuing a Taurus, keep in mind that they're highly attuned to all things physical.
Be yourself
Although the Bull is their symbol, Taurus has an infallible BS detector. If you come off the least bit phony, attempting to appear more successful, knowledgeable, confident or together than you really are, your Taurus will look you straight in the eyes in a manner that leaves no doubt you're full of baloney. Nevertheless, if your Taurus feels connected to you, either by friendship or something deeper, they will accept you just as you are. Period. That's one of their best qualities. Rarely will they strive to change someone they care for. You can have a history of naughty behavior, failed romances or dismal professional prospects, but if you have a good heart, your Taurus will respond to it.
That's not to say that Taurus has infinite patience. Well, close to infinite — their steadfastness is the core of their personal power — but they have their limits if you continually mess up. That's because Taurus will only respect a partner who has inner strength and integrity. You can make mistakes and still gain their love, but you'd better be disciplined in pursuing your goals and centered in who you are.
Be consistent
An important thing to know about Taurus is their need for security. The one thing Taurus hates nearly as much as phoniness is unreliability. As a fixed Earth sign, Taurus is the least adaptable sign of the zodiac. (Scorpio comes in a close second.) They don't do well with people who break promises, even if that promise is just a dinner date at 7 p.m. (not 7:20, mind you). If you must change or cancel a date, you'd better have an exceptionally good reason. Nothing short of total incapacitation will do.
Speaking of security, financial reliability is a must for Taurus as well. Not financial wealth necessarily (although your practical Taurus would certainly appreciate that), but they need financial dependability and stability to feel safe with you. Second only to emotional turmoil (don't even think of cheating on them), nothing rattles a Taurus more than financial upheaval. It strikes at the core of their need for security. Your Taurus will stand by you through every imaginable challenge, but too much instability will have them reeling and will make them shut down emotionally.
Fight fair
Think your dependable, good-natured Taurus is incapable of getting angry? Think again. Whoever thought up the saying "like a bull in a china shop" undoubtedly encountered a riled up Taurus. They can lift the roof off a building with their anger, but you'll have to push your Taurus pretty hard into a corner before they lose control. Fight fairly, without unnecessary fireworks, and you'll be able to work through any relationship issue with your Taurus.
Perhaps most important, Taurus is ruled by Venus, the planet of love. If you love your Taurus with your body, mind and soul, you'll capture their heart and keep it forever.