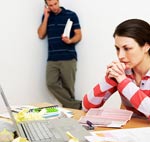 Wow. Time sure does fly when you're having fun — and by fun I mean the escalating unemployment rate and lack of new jobs available … hasn't this dragged on long enough? It has, and it's not going anywhere anytime soon. If you're facing a layoff, cut hours or wages or simply need to make more money to compensate for something else, we looked to our psychics for their best advice and insight on how to face the unknown and financial straits.
"I had a client call me with panic as she realized her department was cutting back and she knew she was one of them.  I looked into her situation and saw that she had befriended a dark haired woman, described her and asked if she recalled her.  My client indeed did recall her, she said this woman was transferred three or four years ago.  I told her to get in touch with this woman as there was a position available in her department and I could see my client was qualified. I saw that the money was the same and let her know. She ended up getting the position and was able to leave her layoff worries behind her."  – Psychic TeriLynn ext. 9625
Positive is the way to go, however … easier said then done. Do you have any tips on how to deal with financial let-downs?