Boy! I would have to say I was definitely married in a past life. This particular past life had a huge lesson and in this lifetime, has brought an even bigger blessing to me.
It all started when I was engaged to a man who I knew had way too much charisma for his own good. He, unfortunately was also known as a "player". Even though I knew this and saw how he was, I also thought that he was my "soulmate" and felt that the love of a good woman would change him … don't we all? Well, it didn't and I went through one of the darkest periods of my life. When I just couldn't look away anymore, I found out it was a woman who reminded him of his 'fiancée'! (I bet you can see all the red flags in the above … but I was 'in love'.)
Fast forward three years after of celibate dating … I was working as a Production Floor Manager in Silicon Valley, California and had to make a call to a vendor who was engineering a special part for us. When I called I was told by the Manager who answered the phone that the engineer was not in and I replied, "Oh crap! Have you ever had a Friday that felt like a Monday and just wanted to get into your car and drive to Oregon?" His reply was, "Oregon? What do you know of in Oregon?" So I told him how I'd used to take vacations with my ex-fiancé there.
After three months of talking on the phone to 'the Manager,' I agreed to meet him in person at a restaurant. As we sat down and began to talk, all of a sudden I was engulfed in a vision – I was at some sort of French Court gala and laughing behind a fan to my friends about something. Being a member of the Royal Court also meant that I was somewhat promiscuous, as most of the others were … it was just something that was taken very lightly by most. As I was laughing, I turned to the door and saw two gentlemen in French uniforms standing there. I remember saying to my group, "See that young man on the right? He will be my next husband." Everyone laughed as I had done this before.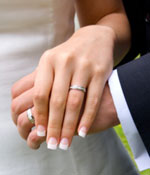 The next moment in this vision, I was living in a huge estate out in the country, where I had indeed married the young man I spoke of prior. He was holding me down over a wood chopping block and raising an ax over me. My last thought was of how sorry I was for getting caught with my indiscretions before it all went black.
Back to the restaurant – I snapped out of my vision and my date was asking me where I had gone to because I had stopped talking in mid-sentence. He looked so much like the uniformed gentleman in the vision … I asked him, "Do I look familiar to you?" His answer was, "Yes," then I asked "Do you get the feeling that I have hurt you before?" His answer was "Yes, but not in this life." Now, let me explain something, this man is an engineer and doesn't believe in what science cannot prove, so his answer to me was stunning.
Three weeks later we were married and have been for almost 19 years! We have a very special marriage, and at times because of his work, he has had to live away from home for over 5 years, only coming home on weekends. We were always asked by friends how we managed to do that and our reply was simply, "We trust each other."