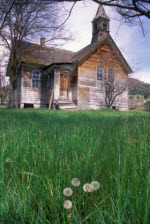 The set of the current HBO documentary "No One Dies in Lily Dale," the small, quaint, Victorian style village by the name of Lily Dale is located south of Buffalo, and is known to be home to the largest community of Mediums. The documentary follows thousands who come from all over the world to gather and wait patiently for questions to be answered and closure to be given.
The Medium community actually charges a $10 admission fee during the busiest months (Mid-June until Labor Day) for tourists and modern spiritualists looking to attend seminars, Medium-ship demonstrations, seek healing services and enjoy the pet cemetery. Lily Dale, the communitybegan by the three Fox sisters in 1916, who have been credited as being primary founders in Spiritualism. They all worked and had success as Mediums.
Would you ever go to a Medium convention? Or have you ever been to Lily Dale?