As you may have read in my bio here at CP , my ancestry is Sicilian. If you know anything about Sicilian or Italian people (there is a difference!) you know we are typically a very superstitious bunch.
The Evil Eye, or Mal Occhio (English translation "bad eye") is believed to be a curse, though luckily, a curse that can be removed should one become aware if its presence. As a child I was warned about the evil eye, given the hand gesture of two pointed fingers (think a crooked "v") and was surrounded by family members wearing the Corno, or Italian Horn Amulet for protection against the evil eye. I still occasionally wear my grandmother's Corno today whenever I feel I need some extra defense or as a reminder.
Growing up, my grandma (who I am named after and visits with me daily from the other side) was convinced her elderly neighbor (who always wore a babushka over her hair and carried a mean walking stick) was always sending the evil eye to her. If I lost a ball over the fence I never got it back. When apples from the big tree in the backyard dropped on her side of the yard, she'd throw them over the privacy fence with abandon. We stayed on our side of the yard to avoid being pelted, as you never knew when the mood would strike her. To a kid, a grownup never seemed so cruel!
According to belief, a person without any special powers can send the Mal Occhio, often through envy, and without any specific intention. Corno were often placed in baby's diapers for protection and is the reason why babies and young children are often spit upon three times by family members. No actual spit is sprayed, but the intention is to make a "tsoo" or spitting sound.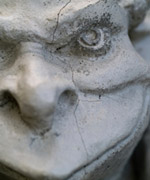 Traditionally, the evil eye is believed to cause headaches, bad luck, miscarriages, accidents, and damage to crops among other things. Fear of the evil eye was so great in our culture that special laws were enacted specifically to discourage the practice. Other alternatives for protection that were used (still by some today) include placing open scissors between your mattress while you sleep, wearing something red on your person, and garlic or red pepper (now can be purchased in plastic) strands worn or hung outside the home.
Do I believe in the Mal Occhio? Yes and no. Overall, we are simply working with energy and intentions, good or bad, everywhere we go. The Evil Eye, or Mal Occhio is no different!