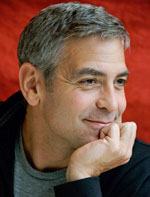 Born on May 6, 1961, George Clooney is an award-winning superstar in every sense of the word. His recent films include Up in the Air, Michael Clayton, Syriana and Good Night, and Good Luck. As an actor, director, producer and screenwriter, he's dedicated and down-to-earth. And oh, so sexy. That's not surprising, considering his Earth-sign emphasis, with Sun in Taurus and Moon in Capricorn.
There's a genuineness about him, too. Clooney has used his fame to speak on behalf of the victims of mass atrocities, particularly in Darfur. But this celeb isn't just grounded — he's got some fire! Venus in Aries and Mars in Leo give him a talent for drama, both in his career and his personal life. He was married to Talia Balsam from 1989-1993, but has been a sworn bachelor ever since.
His Moon-Saturn conjunction in Capricorn makes him cautious about emotional connections. Still, he's capable of throwing his heart into whatever he's passionate about, whether it's a relationship, film or activism.