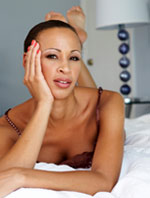 Housekeeping Monthly published an article called "The Good Wife's Guide" on May 13, 1955, which described in detail what a perfect wife should be. Highlights include:
Be interesting for him.
Be happy to see him.
Make the evening his. Never complain if he comes home late.
Don't ask him questions about his actions, or question his judgment or integrity.
And the big one… A good wife always knows her place.
These days, many men still crave the lifestyle that only a June Cleaver could provide. The perfect wife is still thought by some men as gentle, passive, giving, and all-sacrificing. But what about strength? Strong women can also be very attractive to men. Some of their most defining characteristics are:
Confidence and security in herself.
Clear direction in life.
Emotional and financial stability.
Ability to take control in the bedroom.
Men who prefer "weak" women may actually be compensating for their own insecurities. Men who are self sufficient, empowered, and confident in their own worth prefer a strong woman who can challenge them and keep them on their toes. Strong men look for strong women.
Yet when an insecure, controlling man loves an empowered woman, problems are sure to ensue. This is where the phrase "power struggle" ultimately comes from. If you notice a power struggle taking over your relationship, ask your partner what they need. Even though you shouldn't come right out and say it, what you're looking for are the reasons they feel insecure in the partnership. Sit down and talk to them about your roles. Make sure that they understand that you're both on the same team.
Alas, some men are not cut out for strong women, but not all of these women are as inviting as others. There are some very attractive, intelligent, strong women out there who have a lot of difficulty finding a life partner. While their choice in insecure men may very well be a factor, they may also be a part of their own problem.
When a man loves a strong woman, he is also in awe of her femininity. He isn't just looking for a savvy business partner, but for someone who is gentle, giving, warm, affectionate, nurturing, and thoughtful. Secure women need to remember that there is great satisfaction in allowing a partner to occasionally take the lead. As in the Argentine Tango, too strong of a woman can be a difficult dance partner. She must relinquish herself to the care of her dance partner, who will lead them by tapping into their heart connection.
In other words, he isn't controlling her, but rather guiding their equal partnership through a very intimate and trusting bond. The true magic behind dance can be said to describe the give-and-take nature of the romantic love found between two equally empowered lovers (soulmates). Strength isn't always knowing how to take care of yourself and those around you, but also relinquishing your care into the hands of another.