A young friend of mine recently told me that she and her boyfriend of one year had broken up. She said that they were "still friends, though." I asked her how this was possible – how could a man and woman switch from a relationship that included sex, emotional intimacy and talk of future marriage to one of, I assume, just emotional intimacy?
She gave me a look of "duh!" and explained that, sure, it was possible, that it happened all the time. Most of her friends had friends that were former boyfriends or girlfriends – and this was the way it was, now.
I still have a hard time with this concept. How is it possible to take the steps from, I would assume, acquaintances to friendship to lovers, and then for whatever reason, take a step backward to "just friends?" I would think that the reason for the step backward would preclude being friends, as the backward step would have to be prompted by something negative – such as incompatibility, distrust, betrayal. And once these characteristics had been exhibited, any basis for friendship would disappear, I would think.
From what I have seen in life, the best heterosexual or gay relationships seem to be founded on friendship, trust and compatibility. As the relationship evolves into a stable, long-term union, it either continues to exist or does not, which is what I believe the word divorce describes, when it does not. With the divorce would come a separation between the two individuals.
Callers assure me that they still have friendships with ex-lovers but then will go on to tell me about the lies and deception from these "friends." I don't believe that friends exhibit this type of behavior but then, this type of social anomaly could be one that simply did not exist for me when I was in my twenties.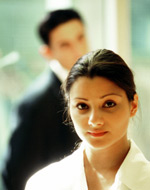 Can there be a positive step occurring when lovers go backward and become just friends? It's possible, I guess. But, I sometimes think that this could well be a way of just not letting go, of holding on to a relationship one way or another. And that is just not being a friend, I think.