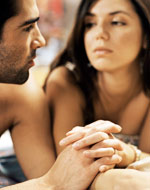 Infidelity affects 85% of marriages. Apparently, cheating is in, but if you understand the early warning signs, you won't be blind-sided. Gardens reward you with beauty and pleasure if you provide sunshine, food, and water. But even unintentional neglect produces a worthless bed of weeds.
Baggage from past relationships or the heat of illicit sex can kill a marriage. Anger, job dissatisfaction, anxiety, poor self esteem, and even the blessing of all blessings – a new baby – may erode relationships. Here are six symptoms that something wicked could be brewing with your spouse:
• He doesn't put out. Not only is he not into you, he wouldn't notice if you dressed in plastic wrap and a red bow.
• If your mate surfs the WWW till dawn, clearing the screen whenever you approach, reevaluate your personal connection. Is she trolling for excitement?
• Your partner appears to be living on social sites like Facebook, MySpace, or Twitter instead of in the real world.
• Intimacy, the non-sexual kind, fades. No hand holding. You sit across the room from each other. You read at the dinner table. Your partner seems depressed, anxious, or generally dissatisfied.
• Your spouse adopts a new hairstyle, wardrobe, and fitness plan, and begins to compare you unfavorably to others. Oddly, the converse is true, too. He's uninterested in his appearance – when he's with you.
• Your other half works a ton of overtime. She just doesn't want to be at home.
True, the flash of passion, so attractive in new romances, doesn't last. People grow complacent. Life interferes. Children require attention. You can't sustain fever pitch passion forever… but danger lurks if you overlook your partner's needs and wants. Battle weeds later, or be proactive, encouraging love to bloom. Try these tips:
1. Listen reflectively, offering comments and encouragement in conversation. Truly connect.
2. Hold hands. Offer physical warmth when natural opportunities arise. Beguile your partner.
3. Commit to weekly date nights, no matter what. This is a key to marital health.
4. Get expert advice. Look for a couples retreat, military couples have them all the time. Put your heart and soul into it.
5. Revisit what first drew you to your spouse – remember how to treasure those things.
6. Laugh with each other, out loud and often.
7. Cut him some slack, let irritations go by; overlook transgressions.
Now, if your partner thinks natural disaster means she couldn't spend the day at the spa, never mind the kids' orthodontist bill, or your husband can only thrive on full throttle adrenaline, you may not be able to stave off an affair. If that's the case, trust your instincts, keep your eyes and ears open, and take care of yourself.
But if you love each other, commitment is where it's at. Tune in to and feed that strong relationship. Secure a balance of energies. Strong bonds require time and effort. A great partnership isn't 50-50. Each partner must give 100%.
What are your favorite ways to keep passion alive?