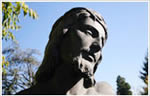 We asked our group of psychics how they feel about Jesus from the psychic perspective – was he a Psychic or a Prophet? Is there a difference? Surprisingly, most of our psychics didn't see too much of a distinction between being psychic and being prophetic – most considered being both psychic and prophetic to be the result of spiritual growth, and that Jesus would naturally have been both.
"I have always felt intuitively that Jesus was both a psychic and a prophet," explains Psychic Fiona ext. 5178, "and that he knew exactly what was going to happen to him in the end. When Jesus told Judas, 'Do what you must do and do it quickly,' that statement suggests that he had foreknowledge of what was about to occur – that a betrayal was imminent, causing Judas to hang himself and Jesus to be crucified. He told the Apostle Peter, 'Before the cock crows thrice, you will have denied me twice' at the Last Supper, then it happened. Peter denied him just as Jesus had predicted. Jesus told the thief beside him on the cross not to worry and that before the day was over, 'You will be with me in paradise.'"
She continues, "Jesus was such a unique individual, so evolved, especially for the time in which he lived, that it would have been more unusual had he not been a psychic and prophet, than if he were. One of the most powerful statements he made to his disciples suggesting that he was psychic was, 'There is nothing concealed that will not be brought to light.' I'm pretty sure most psychics would agree with him about that."
Psychic Tammy ext. 9380 shares even more startling information. "I believe that Jesus Christ was both. I have even, on rare occasions, picked him up around one of my callers, and when I do, He is radiating a bright white light, and a feeling of amazing and unconditional love. There are also times that I've been in communication psychically with Jesus for myself, just as I would be in contact with anyone who has crossed over and is residing on the spirit realm. However, the difference is that Jesus emits a VERY bright sparkling, radiant light and a feeling of very high frequency of love. What a powerful being. There is a meditation that I do in which I 'enter the room where Jesus resides.' It is a beautiful place to be. I have had many healing and informative conversations during those times, and never want to leave."
What's your opinion? What were Jesus' gifts?