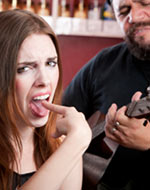 Gentlemen, fifty
first dates
won't get you anywhere but exhausted if you haven't a clue what turns women off, and I'm going to give you some serious clues. You mean well, of course, but sometimes you can't see beyond the end of your charming nose. We aren't all looking for a babe like Johnny Depp or a guy schlepping around a sack full of
cash
.
A smidge of polish and a mellow approach gets any guy further than loud guffaws and show-offy stunts. Even if your sartorial elegance isn't GQ sophisticated, do your jeans fit like they were made for you? Do all your shirts advertise your favorite brewsky? Do you know why finger tip caresses trump slap and tickle?
Here then, is how to handle a woman. Start on the right note – and build to a symphony. Want to approach a cool woman in a pub or coffee bar? She's probably open to meeting new people, but respect her space and boundaries… Toss a sugar packet in front of her and declare, "Hey, baby, this must be your name tag," and you'll be rewarded with rolled eyes and a cold shoulder.
Opening lines are tough. Women are turned off by crude humor or corny movie quotes. Be you. Ask about the best coffee she ever drank or notice the magazine she's carrying – demonstrate that you're well-read too.
Even when a relationship is maturing, women have expectations. Facial hair might enhance your looks, but wild nose and ear hair or the classic unibrow can't stoke anyone's romantic fires. Cozy up to a clipper before you cozy up to your woman.
Knowing her man is comfortable makes a woman feel terrific. But comfy isn't sloppy. Make an effort with impeccably clean attire – clothes that suit your body and the occasion. Nothing smells nicer than cuddling up to a guy in freshly-laundered gear.
Lose the heavy aftershave or cologne, opting for scented soap, manly shampoo, and a light touch of coordinating cologne as a finish. Women are sensual beings. Overpower her with cheap chemical odors and she'll disappear like a chunk of ice on a barbeque grill.
Women adore love and romance, so good sex is like a diamond bracelet in shiny red wrappings. But less is more, and taking time to attend is the biggest turn on. Silky caresses send shivers to most interesting body places. Kiss her like you're savoring fine wine. Pay attention to all her erotic zones – meaning all of her. Even sexy rough play requires sultry finesse. Thrust your tongue down her throat, administer a tweak here or grab there, and she'll respond with as much fire as a snuffed candle.
Your best bet? Listen to your lady. Watch her reactions. Care about what she likes, and you'll have more than a clue.