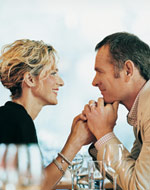 Respect is one of the most important attributes of any relationship, and without it, a relationship invariably suffers and ultimately ends. Men seem unable to fall in love with a woman if he does not respect her. He may date and sleep with a woman he does not respect, but nothing serious will ever come out of such a relationship. Whether you have just met the guy, or have been involved with him for some time, there are certain pitfalls to look out for when it comes to that delicate relationship dynamic called respect.
Low Self-Esteem
Perhaps the most important factor in gaining another's respect is by first respecting yourself. A healthy self-esteem is manifested in all of your thoughts and actions, and men quickly pick up on that. If you're constantly putting yourself down, you inadvertently betray the most unattractive side of your psyche. Most men don't want to deal with self-sabotaging women because it makes them feel responsible for having to make you feel better about yourself, which is exhausting. Often, the men that do look for women with no self-respect are either looking for an easy lay, or someone they can use as their emotional or physical punching bag, and we definitely want to steer clear of that!
Too Fast and Loose?
It's a cliché, but the rule still applies. If you sleep around with a lot of guys and that information gets out, many men will still want to sleep with you, but they most likely will not respect you. The same goes for sleeping with a guy upon first meeting him. It may make men seem hypocritical and shallow, but perhaps it is better to think about it in a different way. Everyone wants value in their life, and you tend to appreciate that which you have to work for versus the things that are simply given to you. If you give up the goods to a guy so easily, he'll presume you do that with every man, and there's no value in something that anyone can have.
A Clinging Vine
It's just not attractive to cling to a guy, melding part of his identity with yours. In this day and age, most men want independent women who have their own voices, who are not "yes" girls so eager to please their guys that they consistently compromise their interests and lifestyles for their men. This holds true for jealous behavior as well. You need to give your guy some room to breathe, and if you're constantly getting on him about his female friends or any conversation he may have had with a girl, your suffocating behavior will surely lead to his loss of respect.
Pulling the Strings
Some women feel that love is a battlefield, where it's every man and woman for themselves – and may the best tactics win. They think that they need to control and manipulate their men in order to get them to do what they want. A guy may put up with some of this if he really cares for you, but unless he's stupid, he'll eventually come to resent your behavior. It's hard to trust someone you feel is manipulating you and, worse yet, it looks cowardly when you attempt to get what you want underhandedly instead of forthrightly saying it. If a guy feels your behavior is deceitful and cowardly, you can be sure there's not much room for respect there.
Don't Be a Nag
Are you whiny all the time, never satisfied with what the two of you are doing, what he's wearing, how he chews his food, etc.? Is it never good enough, no matter how hard he tries? You may think that you have the upper hand if you always act dissatisfied, while he's always trying to please you, but that will get old fast. The high maintenance girlfriend role will eventually feel like more work than it's worth, and your lack of appreciation will make him feel disrespected. If he feels you don't respect him and his efforts, how can you expect him to do the same for you?