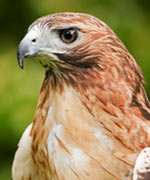 MaryLou in Nampa, Idaho asks:
Is my spirit guide Redhawk? I saw a red-tailed hawk flying to an Indian man who had a shaman watching him from nearby, so I call him Redhawk. Does he have any messages I need to know? I haven't been able to feel him lately, when before I used to. I just don't know what is going on.
Dear MaryLou,
The shaman and the red-tailed hawk presented themselves to me as your spirit guides, saying the Indian man is actually you in a previous lifetime. Your vision of the man, shaman and hawk is a kind of memory clip from an initiation-vision quest which was the next to last step in your own shamanic training. I'm being told that you were killed shortly after that moment, and that your vision is a kind of a marker to show you exactly how to pick up where you left off (by accepting the Power of Hawk), and how to complete your initiation.
You haven't been as aware of your guides' presence recently because right now you, the shaman (who is the one you've felt around you and know as Redhawk) and your hawk power animal/spirit guide are traveling deep in your subconscious mind. You've been voyaging through your inner spaces to integrate the Power of Hawk into your very cells to fuel the next steps on your soul path.
You will probably continue to work on integrating your hawk spirit's gifts in dreams and deep consciousness until early December of this year. Then it will be time for you to "own" those qualities, to draw them up from your core and allow them to express through you and out into the world. You should complete that phase of your development by the end of February 2011.
Hawk is a messenger and guardian, and its gifts include vision (including seeing the future, seeing the big picture, and noticing small details which others miss), the ability to act with amazing speed and, when necessary, with deadly power and remarkable communication skills. According to Ted Andrews in the book Animal-Speak, red-tailed hawks are also tied to kundalini, the seat of primal life force. He adds that the red-tail often shows up when you're ready to move forward with your soul purpose.
This doesn't necessarily mean that you will ever call yourself a shaman, MaryLou. It does mean that the core beliefs and practices of shamanism are vital to your life path, spiritual development and personal success. Shamanism has been important in many cultures, and throughout the ages, as a way of being which is powerfully integrated with the natural world, and which works consciously with the spirits of animals, plants, and landscapes to promote the good of all. This you can do whether you work in an office or as a practicing shaman, and clearly those gifts are urgently needed in today's world.
This is an important gateway in your life, MaryLou. Be ready for a grand adventure!