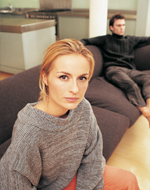 Spot signs of a manipulative relationship with your boyfriend or girlfriend. There are five signs that confirm if you're in a controlling or abusive relationship. Relationships can be the most beautiful or the most destructive personal connections we ever make with another human being. When it's right and healthy, a relationship adds joy and fulfillment to our lives possibly unsurpassed by any other life experience; when it's negative and hurtful, a relationship can strip us of our self-worth, our happiness, and our ability to be open to love from all others. One way a relationship can be this destructive is through control and manipulation. Often, we don't see the signs until we're knee-deep in the caustic relationship; sometimes, we don't see it at all. Spotting the signs takes us one step closer to eradicating the negative relationship responsible for diminishing the quality of our life.
1. Be Honest With Yourself
It's so simple, yet it's one of the hardest lessons in life to learn. False perception protects us from dealing with the harshness of reality, allowing us to live a lie as the environments that we work so hard to ignore (and the people in them) eat us alive. If you are courageous enough to take a step back and evaluate the relationship, you will be better able to determine the health of your partnership. First, evaluate what your relationship has brought you. Has there been advancement in your life, personally and professionally? Does your love for one other inspire you to be better people, or do its disappointments weigh on you everyday? Has your partnership been supportive of your family and friendships, or has your significant other hindered your relationships with many of the important people in your life?
2. The Subtle Takeover
Most relationships begin with more freedom than they end with several months, or years down the road. Where compromise and devotion is important to a happy relationship, an over-controlling and restrictive partner will hold on so tightly that their actions suffocate the life from their mate. This can happen slowly over time, possibly slipping past your defenses. If you find yourself always required to explain your actions to your partner, if you feel like you need to ask permission to plan errands in your day, these can be signs of a controlling partner. Maintaining separate lives and being supportive of each other's unique interests is a crucial part of a healthy partnership.
3. Emotional Warfare as a Tool
A successful manipulation technique is to control others through emotional outbursts. If your actions evoke such a strong negative response from your partner that you are reluctant to repeat that behavior again, you are being manipulated. Your mate is attempting to control what you do by punishing you through emotional turmoil and hurtful arguments. Accusations, ranting and threats are just a few examples of how one party manipulates the other to do what they want. For example, even though you would rather see your girlfriends for a night at the movies, because of his ranting and complaining, you decide it's not worth it and end up staying home with him instead. Eventually he will know exactly which buttons to push to evoke a specific response from you. This effective form of manipulation often leaves you so exhausted that you don't even look closely at how unhealthy this behavior is.
4. Repetitive Offenses and False Apologies
Instead of stopping the behavior, or admitting that they do not want to stop (which allows the other person to claim the negative behavior as a deal-breaker and leave the relationship), they choose to put their mate through this unhealthy and dishonest cycle, which often culminates in an insincere apology or bribery. They attempt to get out of the "doghouse" by buying you gifts, offering sweet compliments, etc. You allow them to "make up" for their mistake, only to have them repeat the same cycle next month.
5. Dangling the Carrot
Another form of manipulation involves the bribe technique. If you find that your mate will promise you something in exchange for your acquiescing to their wishes, they are manipulating you to get what they want. Conversely, they may threaten to take something from you if you do not accede to their wishes. There is nothing wrong with partners doing favors for one another, where each does what the other wants in return for the same courtesy. But when one or the other consistently sets up these "deals," or threatens to take something away if you don't do their bidding, you are most certainly being manipulated.