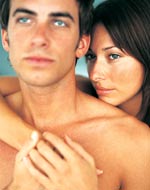 Doubts in a relationship are a normal part of an average partnership. What are the things that make us think twice? Porn, gassiness, jealousy and more! What constitutes a "normal" relationship? Is it normal to wonder about this? Yes it is. Let's look at some of the research and theory behind the typical concern of whether or not we are a part of an average partership.
1. "Whenever I go on a date, I fill up like a balloon"- Normal. Many couples at one time or another have been faced with that uncomfortable bloated feeling during an intimate moment. While this is not a heavily researched subject, we do know that it is normal for a person to pass gas somewhere around 10 to 20 times a day. That's anywhere from a quarter on up to two liters of gas ejected into the atmosphere on a daily basis. Trust me, you're not alone!
2. "I caught my partner watching porn"- Normal. While the percentage found in the research varies depending on who is doing the asking, somewhere between 50 to 60 percent of all men in relationships view porn on a monthly basis. They may hide it, or they may share this experience with their partner. Nelson ratings recently reported that as many as 40 percent of women are viewing porn, which is 20 percent more than was suggested a number of years ago.
3. "I'm jealous every time my partner is away"- Abnormal. While a little jealousy on occasion maybe normal, if you find that you are jealous almost every time you're apart, you are definitely among the minority. According to one university study, only 10 percent of couples have jealous thoughts around their partner on a recurring basis. Don't let this green monster get you!
4. "I sometimes feel down about my relationship"- Normal. Sadness is a very common feeling that we all share. The question here, is what constitutes a normal sadness from a serious depression. If you occasionally feel down about your relationship, but can be lifted back up with a fun night or a good joke, you're most likely normal. Nearly 40 percent of all sad people who walk through a psychiatrists office will be diagnosed as clinically depressed, however, some researchers think this is a bit excessive. Being occasionally sad is normal. When it is no longer normal, is when it consumes your life.
5. "My partner and I do not have enough sex"- Normal. It is quite normal for partners to feel as if they are not getting enough sex in their relationships. If you are finding time to get a roll in the hay at least once a week, then you should consider yourself among the best of them. 50 percent of all married couples only have sex a handful of times per month. Only 7 percent of couples maintain four or more times per week, so if you are anywhere near this, consider yourself lucky!
6. "We can't get pregnant"- Normal. According to the Kinsey Institute, approximately 15 percent of all couples will have difficulty getting pregnant at some point. This problem might be compounded by stress, a medical condition, or overly tight, tighty-whities.
7. "We will never get a divorce"- Normal. It is quite normal for couples to believe their love will last forever. In fact, as many as 90 percent of all couples believe they've found the love of a lifetime. The problem is nearly half of these relationships will end as just another divorce statistic. This is not meant to be a depressive to those of you among this 90 percent, but rather a reminder to continue to work at your relationships. An overwhelming number of relationships end without making a good effort to save them.
8. "My partner and I argue once a week"- Normal. Every couples argues, there is not much question about that. Arguing as much as once or twice a week is not all that uncommon, either. It is not so much the frequency of the arguing that will hurt a couples relationship, but rather their ability to resolve their conflicts constructively. Also, learn to recognize the difference between a worthy argument and a petty difference.
9. "My partner and I do not sleep in the same bed"- Normal. At one time this was considered to be a prerequisite to a break-up, but today as many as one in five couples sleep apart, for no other reason than to get a better sleep. This is particularly true if one partner has some particularly annoying bedroom behaviors, such as snoring and, well, releasing the couple of liters of 'gas' we talked about earlier, under the covers.