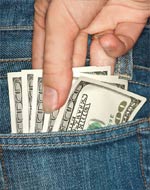 According to a recent survey, 1 in 3 Americans have committed "financial infidelity," or being dishonest with their spouses over money. (And that's the ones who admit it, either to survey-takers or themselves!) Greed, apparently, is an even more popular cardinal sin than lust…
The Globe and Mail reports:
Financial infidelity may be the new normal. In a recent U.S. survey, one in three Americans (31%) who have combined their finances admitted lying to their spouses about money, and another one-third of these adults said they'd been deceived.

The online poll, commissioned by ForbesWoman and the National Endowment for Financial Education (NEFE) and conducted by Harris Interactive, surveyed 2,019 U.S. adults from December 17 to 21. Among both offenders and victims, the leading money crimes were hiding cash, minor purchases and bills. Meanwhile, a significant number of people admitted hiding major purchases, keeping secret bank accounts and lying about their debt or earnings.

"A third of the population admits to not being honest with their spouse," says NEFE chief executive Ted Beck. "That is a big number. These indiscretions cause significant damage to the relationship."
What do you think—how common is financial infidelity? And how does it affect a marriage or partnership?