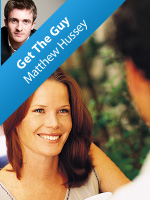 A Special Offer for Our California Psychics Customers!
Matthew Hussey is UK's leading Life Strategist and creator of Get the Guy, getheguy.co.uk. His rise to success as a speaker and a coach has been meteoric, from packed seminar rooms in London to New York to appearances on CNN, GMTV, The Today Show for America and NBC. Get The Guy is a call to action, showing women the strategies they can employ right now to take control of their love lives, instead of sitting back and hoping that it all "sorts itself out eventually."
How do you know for sure he's attracted to you?
Most people don't want to take a risk on someone that may not already like us, so we try to make sure we know whether they like us first. Women especially are often unaccustomed to making the first move, so knowing how to read a guy can feel vital. So how do you tell when a guy is interested? In this newsletter I want to share with you the seven best ways of doing exactly that…
1. Eye Contact
As obvious as it sounds, a guy will make eye contact with you when he's interested. But the key is in the regularity. Guys who are interested rarely look at you just the once. If you keep looking over your shoulder and catching him glancing over, you're getting a great first cue.
2. Proximity
Is he finding reasons to drift closer towards you? This is often the first subtle (or not so subtle) step men take when they are in the presence of a woman they find attractive. Next time you are in a bookstore, you might notice him conveniently browsing the books nearest to you. Most guys are simply hoping that by being near to you they are going to end up talking to you (even if they do forget to open their mouths!)
3. He Tells You More Than He Needs To
In conversation, does he offer up information that you hadn't really asked for? When a guy is attracted, you'll often find him talking about his achievements, the last place he went on holiday, his passions. These are great signs. It's just his way of looking for your approval. If he's investing time in telling you about himself and his life, it'd a great sign!
4. He Re-Initiates Things
When conversation dies down for a few seconds, is he the one to revive it? If you go to the bathroom, does he come and find you again afterwards even if you don't automatically come back to him? Look for signs that he is trying to extend the interaction.
5.  "Pecking"
If you're in a loud environment, is he the one leaning in to listen to your response? You can usually tell which person is investing the most amount of effort and energy by simply looking at who is leaning in.
6. Touch
By touch I don't necessarily mean anything sexual. I simply mean that a guy is looking for reasons to break the physical barrier with you. Guys will use any excuse to do this. He might playfully tap you on the arm, touch your back as he walks behind you, or even make an excuse to high-five you! Look for signs of him being tactile with you in a way that he isn't with other people.
7. Smiling
When we're talking to someone we are attracted to we become much more expressive. Look for someone who smiles frequently at what you say; someone who laughs consistently at your jokes (even the ones that aren't funny!)
Remember, don't wait until you have all of these signs before you go over there and talk! Just because he isn't dancing back-to-back with you, or standing next to you at the bar, doesn't mean he couldn't be interested. Sometimes you just have to make the leap.
– Matt