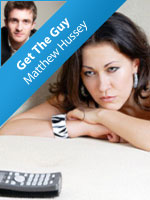 A Special Offer for Our California Psychics Customers!
Matthew Hussey is UK's leading Life Strategist and creator of Get the Guy, getheguy.co.uk. His rise to success as a speaker and a coach has been meteoric, from packed seminar rooms in London to New York to appearances on CNN, GMTV, The Today Show for America and NBC. Get The Guy is a call to action, showing women the strategies they can employ right now to take control of their love lives, instead of sitting back and hoping that it all "sorts itself out eventually." Check out this special offer and learn the techniques to attract the man you desire – Get the Guy: The 4 Man Magnets. Click here to learn more.
Did He Stop Calling? Take Two Deep Breaths and Assess Your Situation Calmly…
So you've exchanged numbers, but heard nothing but radio silence ever since? Here are three steps you can take to find out exactly what to do next…
1. Don't Assume
In situations like these, where there's a great deal of uncertainty, it's best not to go jumping to conclusions. It's important to see things as they are. If he's not got in touch, it's easy to fall into the trap of thinking he doesn't like you, but remember that it could just be that he's busy.
In their perplexed state of uncertainty, it's not uncommon for people to call a "tribunal" amongst their equally uncertain friends, so that they can all debate about what's going on and pitch in with their own two cents. By doing this, you're only adding to the confusion and it's unlikely that you'll ever gain any idea of what to do next.
2. Get Certain
For step two I really want to offer you a solution for all this uncertainty: The Clarifier Message. Rather than just guessing at what he is or isn't thinking, I want to give you a template message which you can send to a guy after a date, or after initially meeting, so that you can accurately assess the current situation.
At, say, 9 pm (or at very late notice), send a guy a message that goes something like…
"Hey, I'm at this great new jazz club. The music is amazing here. You should come."
With this message, you're banking on him not being able to come along, and it's from his reaction that you are able to gain an insight of how he feels about you.
If he's interested and wants to see you again, this message gives him license to arrange another date off the back of it. So when he's interested, you'll get a message something like, "I'm really sorry, but I can't make it tonight. Are you around on Friday?" By doing this, not only do you find out that he's interested, but you also put the ball in his court for doing all of the work in arranging the date!
3. Keep Calm and Carry On
Whatever happens, keep calm and carry on. This has to be a rule of yours whenever you're meeting new guys. If you start trying to focus on what you can't control, you're always going to be leaving yourself feeling uncertain.
You can control sending him a clarifying message. You can control going out and meeting more guys. You can control going out with friends, having a great time, and creating more opportunities—so why not do it? Sitting around and waiting for the phone to ring isn't doing anything to serve you. Now there's one last thing I have to share with you. In all my years of coaching women, I've discovered that there are four things you must have in order to have guys falling over themselves to be with you.
I call them, "The 4 Man Magnets."
ALL the tips and techniques I've shown you will only get you so far until you learn the 4 Man Magnets. If you are missing just one of these Man Magnets, you won't get the love life you want and deserve. When you learn the 4 Man Magnets, you'll be able to attract any man you desire, regardless of how you look and how old you are.
I want to show you exactly what they are and how you can use them immediately to have guys attracted to you INSTANTLY and have them FIGHTING to be with you… EVEN if you think you've already ruined your chances with them.
To learn EXACTLY what they are and how to use them, simply go to:
http://GetTheGuy.co.uk/capsychics
I've even got a SPECIAL SURPRISE just for California Psychics readers when you get there. I don't know how long the link will be up for so head over there NOW while you can.
– Matt