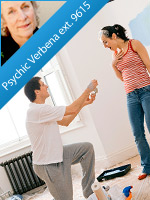 So You Wanna Date a Taurus?
Looking for commitment? Taurus' middle name is commitment! And if you fantasize about a sensual, slow hand during sex, you should know that Taurus the Bull has passionate, slow, sensual (and thorough) down pat. They're also patient, reliable and have great integrity.
However! Before you join the stampede to find your very own Taurus, you should know a few more things.
First, spontaneity is not one of your typically calm Taurus' powers. They're rarely willing to drop everything and head out for a day at the beach midweek, although they'd probably love to join you there, or go hiking, sailing or snorkeling—if it's planned. And if you want to add interest to your life by periodically changing your job, home, car, wardrobe or any other element of your life that might affect your Taurus, be prepared for the kind of resistance that would make a stone monument look flexible. Find out if you're compatible with a Taurus by calling a psychic today!
In spite of the fact that the typical Taurus is famously stubborn and materialistic, and can be unfairly labeled as dull and even plodding by lesser folk, they're usually downright irresistible, from their gorgeous eyes down to their invariably well-shod feet. George Clooney has a quintessentially Taurus look, as do Uma Thurman, Rosario Dawson and Jeffrey Dean Morgan. Other Taurus celebrities include Cate Blanchett and Pierce Brosnan.
Their Venus ruler can draw Taureans to the arts as a profession, although their gift for beauty is just as likely to show up as a beautifully wrought business plan, or an elegantly functional engineering design. And they're outstanding managers, able to attend to details without losing track of the big picture. Taurus likes to make money, and is usually very good at it.
Bottom line, Taurus is looking for a love to last a lifetime, and they're willing to take whatever time they need to be sure that they're hooking up with someone who also wants a secure and monogamous relationship. They may be a bit jealous and possessive, but they're also willing to do whatever it takes to help the relationship last. They might not always be the one to come up with creative solutions, but you can count on them to keep working on it till… well, till the cows come home.
When you read these thumbnail romantic combinations, keep in mind that they're only talking about Sun signs. Other chart factors can add surprising layers and complexity, and can ignite atypical attractions. Interestingly, more astrologers disagree about the "perfect" partner for Taurus than for any other sign.
Aries – Normally, Aries and Taurus have very different goals. Aries wants excitement and adventure, Taurus calm and stability. Unless you have an adventurous Taurus.
Taurus – Talk about a rock and a hard place! In addition to stubbornness, their other pitfall is inertia. Building a beautiful nest together could make differences minor.
Gemini – Basically Gemini loves just about everything Taureans work hard to avoid. However, many Gemini's have a deep, hidden emotional side that Taurus could reach.
Cancer – Many consider Cancer and Taurus one of the zodiac's best matches. Taurus can handle Cancer's sensitivity, and really appreciates their domestic talents.

Leo – Another potentially great match if Taurus can tamp down natural jealousy. Leo's sunny, loyal disposition and a shared love of the good life can make it worth the effort.
Virgo – Introverted Virgo really triggers Taurus' protective streak, and when there's deep trust Virgo can match Taurus' powerful sensuality. Both value order and stability.
Libra – Both Venus-ruled signs share a love of beauty and harmonious surroundings, but financial problems could seem magnified. Beware of testing the limits of fidelity.
Scorpio – The good news and bad news is that these two can share phenomenal chemistry, sexual appetite… and possessiveness. Stormy, but it usually lasts.
Sagittarius – Outgoing, outspoken and adventurous Sagittarius can really push Taurus' buttons, and Sag may feel stifled. Common ground is the importance of truth.
Capricorn – A fairly good match, since Taurus can usually get past Capricorn's bone-deep natural reserve. Could get so busy being successful that they forget to have fun.
Aquarius – It can be very difficult for these two to find common ground, since Taurus lives right here and now and Aquarius is usually focused on the past or future.
Pisces – This water sign might seem a good choice for Taurus, but they can't usually see into Pisces' watery depths, while Pisces can easily manipulate them.
Whether you're just dating or falling in love with a Taurus, most any sigh can be compatible in a relationship with one.