More Do's and Don'ts About Love
It's springtime, the flowers are blooming, you're shedding your winter coats, and you can actually walk outside in heels looking all cute. The construction workers will whistle at you as you saunter by. The men are starting to look good as they get in to the morning run with their dog in tow. You're starting to think about a new relationship.
There are many elements about love and relationships that my callers ask, no matter what stage of life they're in. The dynamics of relationships don't change much with age. One of my favorite sayings is "all is fair in love and war," and although I've never been to war, I've certainly been in love.
1. If you met on the Internet, and you're both local, don't explore the relationship any more than two weeks. If you've not had a date or met for coffee or a drink, it's not going to happen.
2. If a person is ready to start dating they won't have to juggle their calendar to fit you in. If they do, take the hint and back off.
3. If you're with a person in another state and they want you to move to them… like the song goes, "if ya like it then ya better put a ring on it!" No moving without an engagement ring. Even if he's moving to you.
4. The phone rings and it's the person you just met, but it's after 11 p.m.—unless they need to get bailed out of jail, it's a booty call.
5. Men do not feel, they think. So if you have to ask a question, always ask "what do you think," not "how do you feel"; this way you'll get more out of a probing conversation. Women feel, so ask how they "feel" about this or that—get the picture?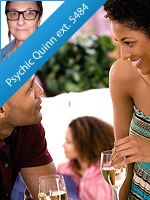 6. If you're dating for six months and the word love hasn't been said, it never will.
7. Never co-sign for a car for your man or woman or let him or her drive your car. It's not fun getting into your car on Monday morning for work and smelling perfume—and it's not yours. The same goes for a guy getting into his car and noticing that the seat, mirrors and heat all need to be adjusted.
8. If you don't hear from him or her within three days after a date, either his or her fingers fell off, or there is no longer interest.
9. If you haven't heard from him or her within three days after a date, call, because their fingers probably fell off.
10. Spring is in the air and men, like bees, like to hop from flower to flower… if you're part of a bouquet, you might want to consider another watering can!
11. Closure is overrated—if there hasn't been any contact for weeks, months or years, chances are the relationship is closed.