Offering Insight Into Gay, Lesbian and Bisexual Relationships
For quite some time, I've wanted to write about the questions that some of our gay callers to California Psychics bring up. These callers may be gay, lesbian or bisexual, but all desire information or insight on their relationships.
Personally, I feel an excellent connection with these callers. I find that their questions are concise and to the point. A friend of mine, another psychic, agrees with me that gay callers are typically very clear about what they would like to know and seem very self-sufficient in their lives. It is a pleasure to speak with them.
The questions they ask deal with the matters that many of our callers are concerned with. What does the future hold for them in regards to someone they are seeing? What is the basis of the conflict they are experiencing in that relationship? Or, when will they be meeting someone new?
Most of my callers identify themselves at the very beginning as gay or bisexual. They are straightforward, wanting to save time and "cut to the chase." Information is what they looking for.
Once in a while, I sense that there is some defensiveness when they do state that they are gay. I can well understand this, as their lives have had extra challenges. I'm sure most have had the challenge of being accepted and understood.
Additionally, there are questions that come as a result of who they are. One gentleman who called said that he had had gay relationships, but preferred very much to live as a heterosexual with a wife and children. I pointed out that he could have a partner and children but it was very important to him, he said, to appear "average." Of course, if he had not had family and/or religious influences, he might not consider being heterosexual as "average." And it is very hard to go against these sometimes overwhelming influences, I know.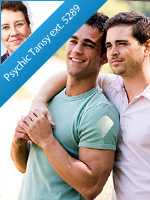 As we spoke, I told him what possibilities I saw for him and discussed a future path. While I felt that we had a tremendous interaction, I also recommended that he seek counseling in order to determine who he felt himself to really be. We may be swayed by family and church but this does not necessarily mean we are doing what is the best for ourselves in the long run. If we live our lives as others may dictate, I believe only great unhappiness may result.
This man wanted to appear "average." This is very understandable, as quite often society does not interact well with minorities. A saying I once came across stated "the nail that stands up gets hammered down." And so it may seem to anyone who does not appear "average."
But I believe that one of the most important endeavors we ever embark on in our lives is to discover who we honestly are and to not attempt to develop the path that others might have us take. We will always be dissatisfied and unhappy if we attempt to follow a path that is not our own, whether we are gay or heterosexual.
Here at California Psychics, I enjoy the variety of individuals who call. Whether they are gay, lesbian, bisexual or heterosexual, it is perpetually surprising as well as rewarding to assist people in their discovery of self. It is my hope that our readings will be beneficial to our callers in their search. I know that at the same time I, myself, will learn from our encounters.