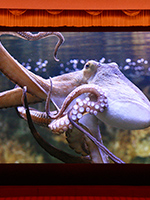 Just when you thought it was safe to go back in the water… Paul the Psychic Octopus, last year's breakout star in the world of psychic animals, who became world famous for correctly predicting the results of World Cup matches before his short life came to a close, is the subject of an upcoming biopic. Mark it up to the public fascination and love for the seewater seer—he's also had  a statue permanently dedicated to his honor at the Olberhausen Zoo in Germany, the site of his famous predictions.
The upcoming film will not only focus on Paul's life and the mania surrounding his winning streak of predictions, but will also purportedly tackle celebrity culture and the reality of psychic abilities, even among animals.
Time Magazine reports:
An upcoming biopic will tell the story of the clairvoyant cephalopod that gained instant celebrity status by calling outcomes of World Cup soccer matches last summer. Paul, the now-deceased octopus from a Sea Life Centre in Germany, accurately picked the winner of all seven games his country of residence played and predicted Spain as the overall victor of the 2010 World Cup. He did so by choosing between one of two boxes of food, each marked with a team's flag. Fans went wild as tales of Paul's skill went viral.

It was, quite literally, a made-for-the-movies phenomenon. The upcoming documentary's website says the film will explore "celebrity mania at its most outrageous, the science of probabilities and the possibility of higher powers." The flick's Facebook page indicates it will be released this fall.
What do you think—would you shell out $11 to see a Paul the Psychic Octopus movie on the big screen? Or wait to throw it into the NetFlix queue? And have we seen the last of the psychic animals phenomenon, or will the new movie just stir up more imitators of Paul's glory?