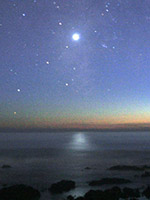 Taureans, you and Cancer are the signs most grounded to our Mother Planet, so you are absolutely essential to the great transitional period now taking place. We all truly need your view of the lush gifts available here, and how to protect them for our future, our children. You also have the determination and insistence to make this happen.
Taurus is ruled by Venus, the goddess who rose from the oceans, a vision of beauty, to bring us joy, bliss and riches. Taurus is the "Earthy" version of the "goddess," as opposed to Libra's more "airy" view. People who visit your home visit a celebration of life on Earth. Venus knows that the riches available buried in the earth and blossoming in our lovely Spring-time in the Northern Hemisphere are all that we really need—Southern Hemisphere folks have the goddess of harvest, so you are part of this great celebration of abundance and joy.
Venus and her cycles have influenced cultures worldwide. Many, including the Mayans and Babylonians, considered the setting Venus as the harmonious aspect, the rising Venus as the "game-changer"—a time to pursue successful conquests. That would be you, Taurus. While the Babylonians gave all the other visible planets and the Moon a male identity, Venus was the female who could decide which of these powers would shine, and which would shrivel away. If you are male or female, you represent this rich power and balance of the masculine/feminine.
When Venus shone on (was close to) a planet, star or constellation, the star/constellation's power was magnified and it greatly enhanced success for that energy's expression on our planet. Taurus, unless you shine on, or bless a venture, it is not energized. This is an important reason why your vision of beauty and plenty are crucial to humanity's survival—really!
Venus is very powerful next to the Sun—being an inner orbit from Earth's, she doesn't travel very far from the Sun from our point of view. Then again, she is fantastically powerful when she travels as far away from the Sun as she can, as she is at her most brilliant in the sky, and very powerful. Your ruler works wonderfully well when she is with male power, yet she is just as powerful when she travels to her furthest point from the Sun. If you are a Taurus (or have a Taurus partner), you must be able to express yourself in your own careful time. When this happens, you are truly a "goldmine," a gift for partner, family, friends and everyone.
Early Taureans (April) will have the Royal Persian Star Fomalhaut as your Heliacal Rising Star. This is a star of enchantment and mysticism, and works with your Taurus Sun to create magical beauty. Your Heliacal Setting Star is Vindemiatrix in the Harvest Goddess Virgo, so you are all about creating and conveying the winemaker's abundance and joy as your life path.
Those born in May will have a more political and alternative drive with Denebola—the tail of Leo and Zuben Elgenubi and Zuben Eschamali—the justice scales of Libra as your Heliacal Rising stars. You will want to preserve the planet and be fair to all, a challenging yet fulfilling goal of bringing people together. Your Heliacal Setting stars—Al Rescha,  the Sacred Knot that ties the Pisces Fishes together, and Diadem, the great "tiara in the sky"—represent your challenging, ultimate crown for your wonderful work.