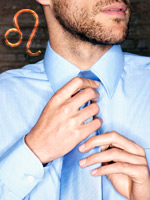 Loving the Lion
So you've fallen for a Leo, or maybe you've just got your eyes set on one. Here's some practical, yet fun and friendly advice to peruse before you saunter into the lion's lair.
Snare the Lion
Once you and Leo lock eyes, for that first, quick moment, you'll know it, there's something different about Leo. The lion is not easy to capture though, first you have to grab their attention, and trying to do so will only guarantee a miss. Don't try at all. You want to be noticed, but noticed for your own awareness of the room and the attention it gets you. Use the alchemy of friendly and aloof to create a dramatic yet classy aura that will almost steal Leo's spotlight. Then they'll have to, want to, and need to know who you are.
Date a Leo
Of course you want to date a Leo. Finding any one sign of the zodiac that is impervious to Leo's magnetic aura is not near or next to impossible, it's just impossible. Unfortunately, even a Leo would admit that there is no one sign that is perfect for the jungle cat. The good news is that once you're on Leo's good side, at worst, you've got a loyal friend for life; at best, you'll have a loyal lover too, as long as it remains hot, fun and steamy. When happy, Leo loves to lavish in the security of a warm and welcoming den to unwind in. Being wild and crazy is fun, but just remember, that Leo wants to get to know the real you, they sincerely do.
Love a Leo
Manage to maintain the excitement of first falling in love as much as possible. Leo loves the very idea of "love." It's the more difficult parts of a relationship they hate to face, the practical, sometimes it gets rough side. If you can manage to keep their fur from getting too ruffled, stroke their ego and let them know that fun and adventure will eventually return and that it never leaves forever, you've got a good chance of keeping love's light shining. Of course, you shouldn't expect all of this comforting reassurance from them. It's not to say that Leo is selfish, they just figure that when their universe is good, everyone should be happy. Hopefully, they'll see the need to reciprocate all the love you're sending their way and give you a hug when you need it because you need it and not just because they think it's expected of them. They like to think that their mates are as strong and independent as they are. When Leos are happy in love, the sun, their ruling planet, helps them shine and all of those closest to them get to bask in the warm-heartedness of this magnificent sign.