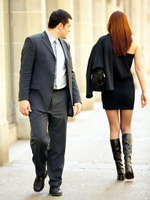 How Much is Too Much?
As flirting is a natural human behavior, cutting your significant other a little slack for a smile sent to the pretty girl at the supermarket, may go a long way towards maintaining a happy and healthy relationship. After all, it's likely that you are guilty of a little harmless flirting here and there as you go about your daily routine. The real question is, what is considered acceptable flirting with others while in a relationship? What type of behavior would be taking things too far? Every relationship is different, and the level of security you feel in your relationship may determine your comfort level regarding a mate with an occasionally flirtatious nature. Generally though, there is a line that should not be crossed when you're involved in a committed relationship.
Physical Contact
Flirting with a look or a few sweet words is on a different stratum than physical contact. A light touch to the arm can be pretty impersonal, while placing a hand on the thigh or near any more of a sexual region has a very specific intent. If he has a habit of touching women near erogenous zones, he's definitely crossing a line. It goes without saying that unless you two have an open relationship, any sexual touch with another women is an act of infidelity.
Dirty Talk
Light flirty banter can be innocent enough, but when the conversation turns to explicit sexual comments and hypothetical sexual encounters, you may want to look harder at his commitment to you. Investing energy and imagination into his interactions with other women shows that he is not devoted to you.
Ostentatious Ogling
This refers to his excessively "checking out" other women or even commenting on their attractiveness. Again, this may depend on the strength of your relationship and how secure you feel with him, but as a general rule, this type of behavior is simply rude and insulting to your significant other. If you are ok with him mentioning the beauty of another woman passing by, that displays your security in yourself and your relationship. On the other hand, if he constantly lavishes praise on other women, that calls into question whether you are that special one in his life, or just one of many to admire.
You are the only one who can determine whether his affections towards other women are inappropriate or harmful to you and the relationship. But taking the abovementioned behaviors into account is a reliable barometer for determining whether or not your doubts and concerns about his commitment have any validity. Life is too short to be with someone who doesn't place you above all other women when it comes to his love and affections.