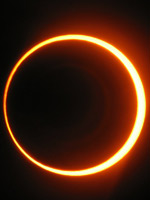 Solar Eclipse: November 13, 2012
Many of our ancestors feared that each Solar Eclipse was the end of the world, so this final solar eclipse before December 21, 2012, when some believe the end of the Mayan Calendar will signal the "end of time," will be a significant one. It speaks to our human fear of change and the unexpected. It's understandable that our ancestors feared eclipses since they were looking at the sky and would see the Sun disappear in the middle of the day. So does the total solar eclipse on November 13, 2012 foretell the end of time?
Astrologers today view solar and lunar eclipses as a time when anything can happen, possibly a "door" to other realities, when we have to rethink what we consider to be reality—an unsettled time, yes; disastrous, no. Plans scheduled around these times will likely need to be revised, so take this into account, but overall this eclipse offers open doors to a new reality from which we can successfully launch our ideas that reach beyond our everyday dreams—a truly magical time following the challenges of 2012.
This eclipse will follow a more challenging solar eclipse on May 20, 2012. We should view the "open doors" of this eclipse as an opportunity, albeit an uncomfortable one. People will be finding that they can't escape buried emotional wounds. While this will be deeply confusing at first, it truly is the personal "clean up job" we need to open ourselves to exciting new phases in our lives, our relationships and humanity's relationship to one another and the Earth.
Around the May eclipse, you may find that the person you love, or even you, have become a stranger to what you knew before. As humans who thrive on relationships this is as terrifying as the disappearance of the sun for our ancestors. However, what we will be addressing is offering something remarkable.
Each of us will be facing wounds within our feminine side, whether we are male or female, and it will no longer be unconscious—a good thing. This may appear as a sudden overwhelming emotion from you or your lover. It is important that we keep in mind that this will free us unbelievably to toss off unconscious fears and to live more vitally and love more passionately and happily. November 13, 2012 will be a fabulous "return of the Sun" after the eclipse if we face our fears—a bright new day for you when the eclipse door opens.