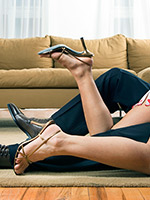 1. Whisper. It's a perfect way to draw your lover nearer to you. It also increases the sense of intimacy.
2. Play with touch. Soft. Hard. Gentle. Demanding. All of these will elicit a different response. Pay attention.
3. Get a little bit rough. Maybe this one's kind edgy, but it really adds intensity. Pulling hair, gentle biting, light scratching. It can all lead to some "WOW!" in the sack.
4. Try something new. Do some research and come up with new ideas. Or, those things you've wanted to try for years but were afraid to say so? Do that!
5. Go shopping together. And I don't mean at the mall. Go to a nice, upper-end sex and sensuality shop and buy a new toy. Not sure what you're looking for? That's okay. Make an adventure of it. And don't feel afraid to ask the salesperson for assistance. That's what she or he is there for.
6. Or shop online. If you don't have a brick-and-mortar sex shop in your area, go shopping online somewhere like Toys in Babeland or Good Vibrations.
7. Slow sex is good sex. Don't rush it.
8. Fast sex is good sex too! A quickie can really deliver.
9. Have sex out of bed. Where else sounds sexy? Up against the wall? In the living room? On a chair? On a table?
10. Kinky can be fun. Blindfolds, light restraints, spanking are all pretty safe activities to participate in, even if they feel dangerous. Just be sure to agree on a safeword (link: http://en.wikipedia.org/wiki/Safeword) first.
11. Share your fantasies. Even if you don't actually want to enact them, it can be really hot to talk about them before or during sex. (If you really, really don't want to enact them, be sure your lover knows that. It can really cut down on confusion or potential jealousy.)
12. Enact the fantasies you actually do want to enact. Don't save it for a rainy day. Make love in the car. Make out in the back row of the movie theater. Watch porn while your lover does you. Taboo, dirty, or just new, acting out fantasies with your lover is guaranteed to turn up the heat.
13. Let yourself laugh! Sometimes fun sex is funny sex. Let go, and keep going. You may be amazed where that will lead.