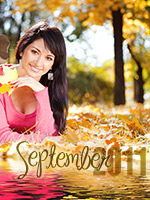 The nurturing vibration at the start of the month becomes a whirlwind of change and conflict after September 14. That's when multiple planets start transiting into Libra—and run headlong into Uranus (revolution) and Pluto (transformation). This can create a rocky road for all things Libra, such as relationships, equality, legal matters, artistic pursuits and living a balanced lifestyle. Those of you with placements in early Aries, Cancer, Libra or Capricorn will likely feel the effects of these influences, to some degree.
The main question to ask yourself is: what do I need to change or release so I can move forward—spiritually, mentally, emotionally and/or materially?
Here's a breakdown of the influences for September…
Transit Tales
At the beginning of the month, Earth placements (Sun and Venus in Virgo, Jupiter in Taurus and Pluto in Capricorn) and Water placements (Mars in Cancer) favor activities that are practical or helpful.
Then on September 14, Venus leads the procession of planets into Libra. Normally this loving sign would favor romantic trysts, but afflictions from Uranus and Pluto can cause disruptions in relationships mid-month, especially if you need to make some changes in your love life. Mars entering Leo on September 18 (through November 9) can bring out your courage, creativity and self-expression, which will help you deal with any problems that come your way.
Toward the end of the month, Uranus and Pluto do battle with the Sun and Mercury in Libra, which can wreak havoc on communications, travel, legalities and relationships (again!).
Planets in Motion
Multiple retrograde planets—Uranus, Neptune and Pluto—can hinder innovation and economic progress. On the upside, they can help you get in touch with your inner life so you make choices that are right for you. Taking some time for introspection will accelerate the process.
Pluto, at least, turns direct on September 16, which will assist your financial/professional growth.
Lunar Magic
The Harvest Full Moon in Pisces occurs on September 12, a time for giving thanks for the blessings of the year.
The New Moon in Libra on September 27 merges with brainy Mercury, which favors communications about relationships, fairness, art/beauty or legalities. However, a square from Pluto, as previously mentioned, is sure to cause some subterfuge or power struggles in these areas at the end of the month.
Planetary Highlights
September 2: Sun trine Jupiter inspires activities that are spiritual, practical or creative.
September 8: Mercury opposing Neptune inspires spiritual pursuits, but can cause muddy communications, especially for Taurus, Leo, Scorpio and Aquarius.
September 8-24: Mercury in Virgo favors ideas, discussions and analyses about work, health or service-related activities.
September 11: Mercury trine Pluto deepens ideas and discussions about business, money, death or healing.
September 12: The Harvest Full Moon in Pisces encourages you to express your gratitude for the blessings you've "harvested" throughout the year.
September 14: Mercury trine Jupiter favors agreements, educational pursuits and discussions about the future.
September 14-October 7: Venus in Libra inspires love, sharing, equality and artistic endeavors.
September 16: Pluto turning direct can help empower your finances and professional activities.
September 17: Venus opposing Uranus can cause an instant attraction or sudden break-up, especially for Aries, Cancer, Libra and Capricorn.
September 18: Venus square Pluto can bring up a relationship issue about power, jealousy, secrecy or money, especially for Aries, Cancer, Libra and Capricorn.
September 18-November 9: Mars in Leo energizes activities that require courage, creativity or perseverance.
September 23: The Sun entering Libra signals the Autumnal Equinox, the beginning of the fall season.
September 23: Mars trine Uranus energizes activities that require innovation, inventiveness or quick action.
September 25-October 12: Mercury in Libra favors ideas and discussions that involve sharing, relating, equality or finding a balanced perspective.
September 25: Sun opposing Uranus can prompt a sudden change of direction, especially for Aries, Cancer, Libra and Capricorn.
September 26: Mercury opposing Uranus energizes ideas that are innovative, scientific, impractical or extreme, especially for Aries, Cancer, Libra and Capricorn.
September 27: The New Moon in Libra conjunct Mercury brings a fresh start for discussions about relationships, sharing, equality, art or legalities, but a square from Pluto can cause subterfuge or power struggles, especially for Aries, Cancer, Libra and Capricorn.
September 28: Similar to the influence above, Sun conjunct Mercury in Libra energizes ideas and discussions about love, fairness, legal matters and art, but a square from Pluto can cause a clash of wills, especially for Aries, Cancer, Libra and Capricorn.
September 29: Venus conjunct Saturn in Libra can inspire a commitment or bring up a fear about commitment, loneliness or poverty.