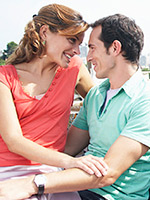 Let Go of Your Exes and Find Mr. Right
While the notion "better the devil you know" may work for some aspects in life, when it comes to relationships, the devil is often driven by the fear factor. Instead of wasting your dating years on has-beens that you know won't ultimately work out, unshackle yourself from your painful past and explore some new frontiers. Let's look at some great motivators for cleaning out the ex closet.
Closure
The funny thing about moving on is that you need to be fully willing to do so or it simply doesn't work. This means cutting off all emotional ties you have built with that person. Coming to terms with why things unfolded the way they did allows you to release emotional attachment. You can hardly be open to taking applications for Mr. Right if you still in the emotional clutches of Mr. Wrong.
Self-Growth
It's a sad fact that stale, negative relationships often hold up personal growth. If you are focusing all of your energy on dead-end relationships and their attendant negative aspects, you can be sure that you'll have a hard time remaining open to new dating experiences.
Sexuality
Dating and sleeping with your ex just complicates old emotions. Women tend to bond easily with their sexual partners, so don't disrupt the transition process by sleeping with an old beau when there are plenty of new and exciting sexual partners out there to discover.
Positivity
While most women know that staying involved with someone after things have gone sour will not improve personal happiness, letting go can be very painful. Even if you have convinced yourself that the emotional baggage no longer exists, be on the lookout for feelings that prove you haven't really moved on. While possible in the best of worlds, it's rare that two people can start completely fresh.
Keeping it Real
Ask yourself why you are staying with this person. Dating someone makes you less available to others, so be honest about the fact that a part of you may not feel open to new relationships. It takes strength to put yourself back out there in the dating minefield, so own up to any cowardice and make the courageous move to win at love!