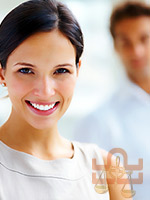 The Zodiac's Most Inviting Sign
If you're dating or falling in love with a Libra, there's no wonder why. The zodiac's sign of partnership is ruled by Venus, and besides being romantic to a fault, they likely lavish you with trinkets and tokens of their affection often. They can be truly hard to resist.
Finding Balance and Bliss
Libras are at their best when in love because until they find a partner of the heart, they feel somewhat incomplete and out of sync, even if they don't know why. Once they're part of a blissful couple, they feel fulfilled and happy, and that their scales are truly balanced as they're meant to be. But that doesn't mean they won't test that bond on occasion, just to make sure it's real. They need some reassurance from you when it comes to love.
Date a Libra
Libras are quite gregarious. They can converse with just about anyone and have no trouble chatting up a room full of people. If you're at a party together, be ready to be introduced to everyone and enjoy a sociably engaging evening that will undoubtedly end in a romantic one-on-one encounter filled with romantic gestures and steamy kisses. To date a Libra is to have found a person who knows the true meaning of together.
Love a Libra
What makes them find you so special is that you've obviously given them the feeling that you know what makes them tick. You make them feel like they belong to something bigger than life itself. Somewhere in between their millions of thoughts and words, you've found the heart of their sentiment; you get them, understand them. Undoubtedly, what makes your Libra so special to you is their love of all things romantic and luxurious, all of which the want to share with you. Romantic dinners and holding hands, and sharing sensual massage are the ways they show their love, making you feel special in the process. Instead of drawing you into their world, they prefer to bond with you and make their world fit neatly around the two of you as a couple. Though not great when it comes to making decisions, if you can be the one to uncomplicate their life, while adding love and devotion in the mix, you've found the magical key to opening their very big heart. To love a Libra is to be in love with love itself.
They need someone to balance out the scales their sign is represented by. Once you and Libra are a couple, there will have to be a storm of the century to pull you apart, at least as far as they're concerned. If there are any problems, Libra would rather work through them then have to go out and find love again. They may walk away temporarily, but their need to feel balanced will soon bring them back.