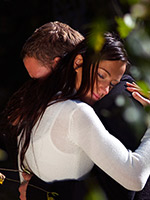 How Should You Apologize, Based On Your Sun Sign?
We all have our own unique and personal ways of approaching others with an apology, hat in hand, saying "I'm sorry," and making amends for the statistically ridiculously few times we err and must seek forgiveness from others. And one's Sun Sign can say much not only about how we usually seek exoneration, but how we can do so more effectively, short of seeking amnesty in a foreign country.
Aries – Aries' forceful and energetic personality does not comprehend the concept of apologizing easily. It isn't that they aren't aware that they can make mistakes. Believe me, they know. It's just that they're perceived as being of little consequence, and how could we be so petty as to call them on it? What Aries needs to do, however, is to listen to the concerns of others more closely to ease any hard feelings to satisfy their need to be heard.
Taurus – How can anyone refuse those large doe eyes of a Taurus beseeching forgiveness? How can any heart be so cold as to refuse those baleful eyes? Aww, not me! However, instead of batting those long eye-lashes, Taurus would find they could give those eyes a rest if they paid more heed to the advice of others.
Get personalized advice, contact a psychic today!
Gemini – Geminis can talk, although these days many of them prefer texting to speaking. Nevertheless, no matter what medium they choose to use, Geminis can talk their way out of any difficulty without actually apologizing for anything. Most Geminis would need to twist themselves into verbal pretzels less if they took to heart the emotional needs of others.
Cancer – Cancer always has a handkerchief handy, and when they're not busy apologizing for themselves, will be happy to apologize on your behalf. I don't need to give advice to Cancers on how to apologize, they hold all the patents on the techniques. But they could keep in mind that not everything need be taken personally, and that sometimes addressing the issues instead of the personalities can solve whatever disagreements you may have with others.
Leo – Do Leos apologize? I can't remember. Somehow whenever Leo is in a fix, others wind up apologizing to them. It's really quite an art. They should give classes in it like painting or piano. Leos ought to remember that a little humility goes a long way, and that sometimes when you think you are taken down a peg, you are rising in others' esteem.
Virgo – Listening to a Virgo apologize is like reading a grocery list. "There's this, and this, and this reason for why things occurred the way they did." And Virgos have a supernatural skill that borders on an inner Mr. Spock for logically being able to explain anything. However, sometimes it isn't what is done but how that is at issue.

Libra – Libras can do no wrong. It's in their contract. The sign of law and balance knows perfectly well when the scales of justice are out of whack, and know how to respond perfectly to any situation, whether it be with words, flowers, or special time between you. But sometimes this means that the underlying issue never gets addressed. Libra often needs to be less artful and more heartful.
Scorpio –No other sign is as willing to put their heart on their sleeve and give you a knife as the Scorpion. Because they know that as soon as you cut too deep enough their stinger automatically springs into action. And even the kind, loving, butter-wouldn't-melt-in-their-mouth variety never forget an injustice. They have a book they carry around with them to keep score. Scorpios need to understand that a request for an apology is not a personal attack, and that giving one does not necessarily mean surrender. You can apologize. And live. Really!
Sagittarius – No offense to Sagittarians, but have you ever heard one apologize? Snicker, snicker, wink, wink! Sometimes a Sagittarian apology is as genuine as a wooden nickel. The problem isn't that they don't mean what they say, but they find it difficult to put those feelings into words that can be understood by another. When faced with the need to apologize, Sagittarians need to think about how their words are going to be received for the apology to work. Otherwise words are just words.
Capricorn – Capricorn takes everything seriously. Including the need to ask for forgiveness. They are often very forthcoming about what needs to be said, and will often say just what needs to be said. Sometimes, though, what gets said is so matter-of-factly stated that it sounds more like an indictment than an apology. Put some feeling into those words, and you might get a more effective response!
Aquarius – Sometimes Aquarians need to be told to say the magic words, "I'm sorry." It isn't that they don't know them, and it isn't that they aren't aware of their behavior. It's just that sometimes they don't realize that what they did was offensive or wrong. It's just the way they are. Aquarians are known to live in a very different moral universe, and sometimes we need a compass to understand it. They mean well, though, and that's important.
Pisces – Pisces has an outstanding method of dealing with asking for forgiveness. They make you regret the thought ever entered your mind. By the time they are through with you, you are a whimpering, sniveling, blob of bodily fluids laying on the ground asking them for forgiveness. How could you be so cruel? Pisces sometimes needs to understand that other people have feelings, and those feelings are just as valid as their own. We each deserve the respect we request from others.