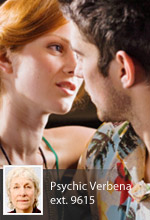 Astrological Opposites Attract … but Can It Last?
When you walk past your astro-opposite, it can feel like you're iron filings and they're the magnet, and you're pulled irresistibly into their orbit. Whether that's a good thing or a bad thing varies wildly.
True, people who were born in the sign opposite yours—for Aries and Libra, or Scorpio and Taurus for example—seem to be able to pick up your slack, so to speak, to balance your weaknesses, as you can for them, whether it's in business or romance. But… unless there are other places in your astrology that create simpatico, it can—also because you're opposite—be very hard to understand or relate comfortably to them.

The pairing of opposites offers one of the most intense and effective cauldrons of personal growth available in human experience. But it requires commitment and a willingness to invest time, energy and effort to benefit. And in intimate relationships it can require love as well.
Unfortunately, unlike the days when marriages were contracted for economic, political or dynastic reasons, and were literally "till death do you part," today's relationship culture makes it all too easy to simply get going when the going gets tough.
If you're in love with or working with your astro anti-soulmate, how can you make it work?
Aries and Libra – Aries provides get-up-and-go and knows just what to do. Libra sees all sides and wants to reflect carefully, and even then postpone decisions. The archetypal masculine and feminine energies, action versus reflection, represented by Aries and Libra, no matter which sex occupies either sign, can fuel a smokin' hot love affair. However, longer term relationships require real commitment and work. You either complete or compete.
Taurus and Scorpio – Both Taurus and Scorpio are famously stubborn and possessive, but they seem to be irresistible to each other, and usually they make it last. Make no mistake, this would never be a cozy, peaceful relationship, largely because Scorpio loves drama while Taurus wants predictability. However, the intensely sexual nature of both signs, coupled with Taurus' innate calm and Scorpio's passionate intensity usually creates an powerfully magnetic, unbreakable bond.
Gemini and Sagittarius – Impulsiveness and restlessness are likely to be the breaking point—or the ingredients of a shatterproof bond—for this pair. While together they value variety and change, thrive on freedom in their relationship, sparkle with fun and humor, and share very stimulating conversations, it's rare for either Gemini or Sagittarius to realize—at least until they're older and had some hard knocks—just how rare and precious this true partner in adventure is.
Cancer and Capricorn – Cancer wants a safe and stable home; Capricorn loves to build to last, and knows just how to provide what Cancer needs. A match made in heaven? Well, it really depends on whether the Cancer can be fulfilled with Capricorn's practical style of loving, which can seem cold to some… and if the Capricorn can be patient with Cancer's sensitivity and neediness. A mature Cancer who can express their needs, and value what Capricorn loves to give, could make it work.
Leo and Aquarius – If you find yourself in this hot pairing, prepare to be both intrigued and frustrated. Leo is all about creativity and self-expression, and Leos love their drama and want to be pampered. The more detached Aquarius is probably the least likely of all signs to indulge in pampering, or emotional drama, because they're busy saving the world. The key is harness Leo's creativity and Aquarius' originality, but in any case this is a tough one over the long haul.
Virgo and Pisces – Again, these opposites fascinate each other, although this is most often successful as a business or professional partnership, where Pisces is in charge of the creativity and Virgo the practicality. Pisces in love is happy to have Virgo worry about day to day stuff early on, but Virgo's tendency to nag when frustrated gets old really fast. And although Virgo can be surprisingly passionate and sensual, Pisces' sexual experiments can go way beyond a Virgo's boundaries.
But when all's said and done, it's important to remember that a person's astrology only represents the character-creating circumstances present at their birth. There's an individual soul at the center of every astrological chart, and in the end it's that soul who determines what each individual is willing and able to invest in your relationship.