While it might not take much to get a guy riled up, there are certain phrases that can light his fire higher and faster than you can say "Yowza." Let's take a look at a few zingers certain to prime his pump! The sexiest things to say to a guy should get him going and are sure to please! The sexiest things to say to a guy should get him going and are sure to please!
"You make me hot"
It's simple but precise. Telling him you are hot for him lets him know that he turns you on and that you find him attractive and sexy.
"Let's get naked"
As most men will find any opportunity to get naked with a woman, this line works like magic. You're letting him know that you want to see him naked and do all the enjoyable things people do together when they are. Get more personalized advice, contact a psychic today!
"I love your body"
A man loves to hear his partner tell him that he has an attractive body. Announcing this says you not only like the way he looks but the way he uses his hot bod.
"I'm not wearing any underwear"
This falls under the "a little bit kinky" category because your telling him this makes him feel like he now knows a secret that no one else does, especially if you're in a public place. This little revelation invariably triggers his visualizing you without your underwear—and you can imagine the rest!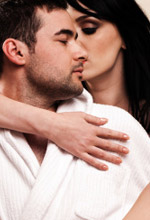 "I can't keep my hands off you"
Telling him that he is so desirable to you that you cannot stop from touching him is very erotic. It also suggests that his body is so tempting that you cannot help yourself.
"You don't have to understand sex to enjoy it." – Kelli ext. 5130
"Let's try a fantasy"
Letting him know you are into trying new things and experimenting in the bedroom is a huge turn-on to men. You know he's had ideas and fantasies about you, so now's the time to invite him to play. He'll also never turn down an opportunity to learn about a fantasy of yours that the two of you may thoroughly enjoy.
"Wanna take a shower?"
Most men find a sexy shower immensely enjoyable and stimulating. It the perfect opportunity for the two of you to soap each other up and enjoy the water running in between your bodies. It can also add another layer of intimacy as you share what is usually considered private time, and turn it into a sexy rendezvous.
"Keep your partner happy by being happy yourself." – Blythe ext. 5339