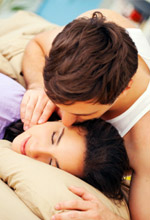 Can people really have casual sex? What starts out as something simple can become more with strong emotions evoked during intercourse.
Is There Really Such a Thing as Casual Sex?
"If it's actually casual, you're probably just doing it wrong." This one-liner by Susie Bright exemplifies the notion that perhaps casual sex is not so casual. There can be no argument that sex is an intense experience involving strong emotions that often heighten feelings during intercourse. So what happens if what you thought was casual sex begins to feel like something more? Read on for some great ways to adjust to this exciting relationship transformation.
Self-Fulfilling Prophecy?
The term casual sex has gotten a bit of a bad rap, partially due to how we perceive this word. The general idea is that committed relationship sex is special and extraordinary because of the feelings of love involved, while "casual" sex can be considered cold, dirty or less-than. When you establish these parameters, casual sex seems more like a conquest instead of what it really can and should be: a shared intimate experience between two human beings.
Transitional vs. Lasting Emotion
Recognizing the emotions that do surface during "casual" sex may save you confusion and heartache later, and save you from reading too much into a moment. As sex is intimate and intense, naturally emotions surface, but they can also fade as quickly as you can say post-coital. Usually any longer-term emotions come from having sex multiple times with the same person. With familiarity comes understanding one another, appreciating one another and so on (otherwise you very likely would have moved on to the next new thing).
"For some, love and sex are intertwined, but most people have the ability to enjoy love without sex or sex without love – if they let go and allow themselves to do so." – Reed ext. 5105
Moving Forward
If you know that your emotions about your casual sex partner are there to stay, you'll want to re-evaluate your connection with him or her. When one person becomes emotionally attached, the relationship can become harmful to that person when the feelings are unrequited. Talk these issues over with your partner to see if he's open to deepening the relationship. If he's not interested, it's probably best to move on to another partner with whom you share a more compatible emotional connection.
"Attracting sex is simple. The hard part is when someone believes that sex and love are the same or that one will naturally lead to the other." – Reed ext. 5105