Does sex after a relationship ends mean a couple is still in love? Perhaps the sexual heat is still permeating beyond what a new boyfriend or girlfriend can offer. The following reader's question opens up the door for Liam to answer the question of if your ex might still love you if you're still having sex.
If He Still Wants Sex From You, Is That Love?
Lorie from Decatur, Illinois asks:
My ex-husband lives with his girlfriend, but he keeps wanting sex from me. Does this mean he still loves me?
Liam's Response:
Greetings, Lorie, and thank you for writing. On the surface, your question appears to have a very cut and dried answer. Indeed, some might deem you foolish for even asking. But the great Swiss philosopher and writer Denis De Rougemont once very wisely pointed out that only the foolish questions really enlighten because behind the obvious nearly always lies something profound. The public response to your inquiry will no doubt be a resounding negative since according to the very narrow social perception of idealized romance most will assume your ex doesn't love you at all. Indeed, they will villainize him and chastise you for daring to accept him in the swelter of carnal delights. I, however, tend to see the matter a bit differently…
Love is defined very differently by different people, in different times and different cultures and it would take more space than we have in this column to sort it all out. Suffice to say your question is born of your own idealized romantic perceptions and hails from a land of myths and pipe dreams which most people accept rather blindly. If you want to know if your ex is ever coming back to live happily ever after with you, then the very short answer is no. That being said, I ask you not to be so quick in your assumptions as to his emotional attachment to you. After all, emotions, passions, primal instinct and, dare I say, love cannot be easily contained by social definition. Your ex has no desire to live with you as husband and wife anymore, but this doesn't mean he doesn't love you. In the conventional sense, according to the romantic and so-called moral ideal, perhaps, he fails… But measured against that myth, most do.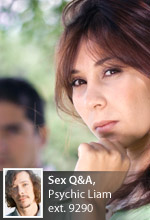 The hard fact of the matter is that your ex stopped being your husband, because the two of you just really sucked at being married. You aren't happy living together, and you have never been best friends. You live apart, because he has found someone with whom he is much more compatible on that level. That being said, what he does have with you that he doesn't with her is sexual heat. That sort of thing rocks in the bedroom, but doesn't transfer so well into a daily partnership. From what I see of the situation, your ex cares very much for you… He just doesn't want to live with you. And I have to wonder why you would want him to? You know he's no picnic to have around. You know he's constantly moody and morose. And you know that outside the bedroom he doesn't really "get" you as the saying goes. If he did return to live with you, how long do you think you'd be happy to have him back? After the initial ego triumph of having won him back from your rival wore off, what would be left? A marriage cannot be fed by passion alone. It won't work. It didn't work for you before.
So your husband is never going to come back for good to live. Is that any reason to stop taking him into your bed? It's the only place you really like him. Sex between the two of you is grand, and you feel marvelous with the flow of it. And you don't have the drama and hassle and complication of the friendship aspect of the pairing, which never was your forte together. I'm afraid you only think you want him back to gratify your ego and because society tells you a good girl only sleeps with men who give them everything in total monogamy. Heaven forbid a woman has sex simply because she wants to! Yes, it's not the situation for everyone, but it works for you. I say, go ahead, enjoy him as a lover, and let someone else enjoy his friendship. In time, you too may well find a live-in friend for yourself.
Do you have a question for Liam? Ask Liam your question now.