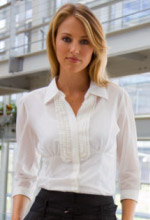 Do You Need to Be Single to Be a Success?
Can the success of a woman hold her back from relationships? Is she doomed to be single? "I think, therefore I'm single." This one-liner by Lizz Winstead exemplifies what many confident and successful women believe; the more abilities they have, the more likely they'll remain unhitched. Let's take a look at how a woman's success may lead to a life of singledom.
Dismissing His Needs
Forging ahead on a date or in a relationship based on your needs or ideals is certain to harm your chances of a lasting happy connection. All too often, strong, confident women do this without realizing it.
Regardless of the strides women have made achieving equality with their male partners, men still need to feel masculine and needed. For example, if you are significantly more successful or earn more money than your guy, he may feel slightly emasculated given the male's primal need to feel like the provider and the protector. This is not to say you can't move past this, but are you sufficiently sensitive to the problem? To feel financially superfluous is emasculating and can put pressure on the relationship.
In contrast to a male's "he-man" nature, many men have a curious desire to feel "taken care of" (the old every-girlfriend-becomes-his-mother), and if you are a strong career women with no time to cater to these needs, he will feel slighted.
High Expectations
Very accomplished women often have high expectations, some of which are not wholly realistic. If your acceptable dating pool is tiny, you may want to consider a more open-minded approach to mate selection. Career and financial success do not make the man so if that's the basis of your search, it could be a long wait.
The Flip-Side
It is well to remember that every positive trait you possess becomes a liability when carried to an extreme. An assertive, career-minded woman can morph into an overbearing workaholic; an analytical mind can be seen as difficult, and a bright person might seem opinionated. Determining how your "wired for success" personality is perceived spells the difference between dating delights or disasters. Take the time to be honest with yourself to understand better exactly what you are projecting.
From Zero to Sixty
Strong women who know what they want can come across as overly aggressive, so a good mantra is "easy does it." It is easy to overwhelm a date with attention and affection in an effort to receive the same in return, especially if this is how you approach your career and job everyday. Allowing the date or relationship to unfold naturally versus attempting to control its every move is the only way to go.
"Whether you want a job, a house, a friend, a mate, lead with your strengths." – Reed ext. 5105
The Independence Conundrum
A high degree of self-reliance, control, and independence is a requisite of success today. This trait of strong independence becomes a way of living, which is difficult to change. Trusting and relying on someone when it's just been you for so long takes effort. Turning off, or dialing down, the "hard-driving," opinionated and meticulous traits that boosted your career may reduce your need for control in the relationship. After all, these are not considered ideal feminine traits, perhaps making you appear "too difficult" to make the cut when you're in the market for a mate.
"To attain the love you want, be prepared to be, or work to become, the type of person you want to attract!" – Yemaya ext. 5143