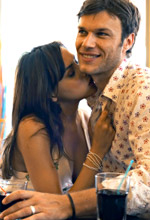 Strengthen Yourself for the Challenges Ahead
Today we're going to talk about the sex addict. Addictions come in many forms, with the more popular addictions involving food, drugs, and sex. All serious addicts, no matter their vice, have certain things in common. Their addiction of choice consumes their lives until it taints everything and everyone in it. If you think you are dating a sex addict, read on to fortify yourself for challenges ahead of you.
The Signs
There are certain signs that your partner may be a sexual addict. These include lying, hiding things, obsessing over sex, exhibitionism, voyeurism, and cheating on you. Lying about where he's been reveals a need to hide a part of himself from you, and you may not even get an honest answer when you do confront him. Sex obsession can manifest itself in the form of exhibitionism or voyeurism as well, displaying his all-consuming need to have sex, watch others having sex, and perform sex for others. The addict will never get his fill of what he craves and will always be searching for more. Cheating can also be a red flag. The reason he cannot be faithful to you could be caused by his addiction. Even though he may love you, his addiction will come first before you and everyone else, every time.
The Part You Play
Generally, people involved with addicts fall into the role of a codependent, or enabler. You can easily get sucked into feeling sorry for their struggles, and wanting to "fix" them. The conundrum here is that your involvement with the addict makes it impossible for you to help them heal. Only their desire to get better, and professional counseling, will put them on the path to recovery. The part you may be playing in this relationship includes denial, making excuses, and ignoring the red flags. Dealing with the fact that your partner may be a sex addict paves a very difficult road for both of you, riddled with hard work and tough decisions. But refusing to see the truth of your partner's issues and lying to yourself and others will only keep you locked in an unhealthy relationship.
"Sex is physical, love is spiritual. You can have sex without love and love without sex; but it's most rewarding when both exist simultaneously." – Psychic Rivers ext. 5273
Where to Go From Here
The biggest challenge for any addict is admitting that he has a problem. Sadly, this usually happens only after he hits rock bottom or loses something of great importance, such as his significant other—you. If your partner has been able to come to terms with his addiction while the two of you are still involved, you will have to make the choice whether or not to stick with him through his recovery process. This will include individual and couples counseling as well as your partner entering a 12-step recovery program such as Sexaholics Anonymous. Oftentimes, recovering addicts need time to heal alone, and that means without you. As difficult as this decision may seem, the recovery process has to be a selfish one, which means your partner has to put himself before the relationship. The best thing you can do is to take this time to reflect on your own needs and spiritual recovery.
"If you find yourself confusing sex and love then you must find your voice, speak up and let your partner know upfront sex is not just the physical act, for you love and sex are one." – Psychic Deejay ext. 5435