How Do You Reverse a Losing Streak?
It seems that bad luck follows you everywhere and there's nothing that you can do to change your luck. First wrap your head around the concept that life is not something that happens "to" you. You're an integral part of the entire mechanism of life. Quantum physics is proving this every day, and if you're a believer that prayer works to heal, or that the Law of Attraction applies, then there's no excuse for thinking that you're stuck with "bad luck"!
Here are five tried and true tools to get rid of bad luck:
1. Negotiate With the Universe! Watch what you say, think, or write down. If you say you "just aren't lucky," you're in fact creating that energy around yourself, and unconsciously showing it in your body language, attitude and speech. Let the universe know that you deserve good things to happen!
2. Change the Karma! No matter what karma you've created in the past, I've always embraced that you can never have too much good karma in the bank… so get out there and do good deeds, put dollar bills under windshields, drop coins into parking meters, go visit sick or lonely friends, volunteer, let others in line in front of you… it adds up, and will "attract" good karma! Get personalized advice, contact a psychic today!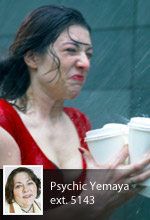 3. Perspective Check? Sometimes we get caught up in "being right" in the need to protect our own egos. It's so easy to become defensive and closed to others' needs. I like to use the old adage of "walk a mile in their shoes" or "they're doing the best they can with the tools they have" to reconsider the situation. These tools can help you to look at what seems like "bad luck" and see that it may just be what someone else needed to happen instead. All things that you go through are not "bad luck." Most, if not all, are compassion training!
4. Spiritual Reboot! Take some time out to pray or meditate on what's happening, in order to stop the "trend." Once I rule out all the above, I will look at the clock, or the calendar and make an official proclamation to the universe that at a certain time, on a certain day, I would like to be done with the negative trend, and am willing to see the lessons involved so that I can move on to positive living.
5. Seek Help. If you can't shake the feeling that there is a dark cloud over your head, do not be fearful of asking for help! Maybe talking with a good friend, a respected relative or a counselor can help. Don't give up if at first you don't find the right person to talk to… there are many different ways to find a helpful listener, life coach, minister, spiritual leader—or call us, we're always there for you!